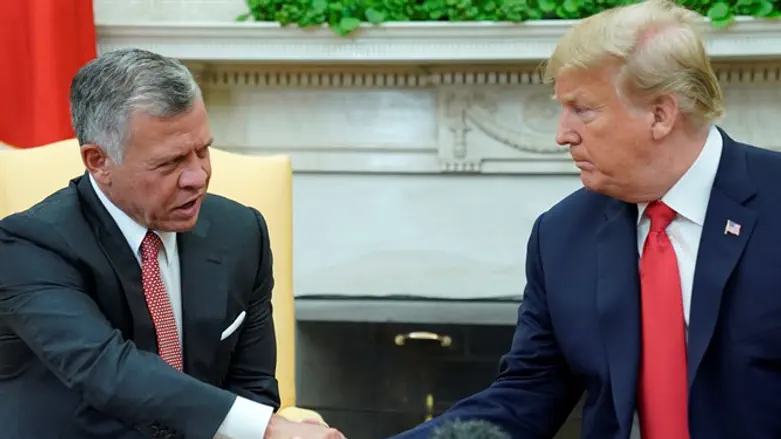 King Abdullah II and Donald Trump
Reuters
Israel is in danger of losing its Jewish majority and character as a Jewish state if no peace deal is reached between Israel and the Palestinian Authority, Jordan's King Abdullah II recently told President Donald Trump, Israeli media reported Sunday night.
In response, Trump replied that in the absence of a final status agreement, Israel would likely have an Arab prime minister.
According to a report by Channel 10 Sunday evening, the discussion took place during President Trump's meeting with King Abdullah at the White House on June 25th.
The comments were made in private, but were shared by King Abdullah with France's Foreign Minister, Jean-Yves le Drian earlier this month, Channel 10 claimed.
The report was confirmed, Channel 10 said, by US and Israeli officials.
"Many young Palestinians no longer want two states," King Abdullah is quoted as telling President Trump during the White House meeting. "They want one state with equal rights. The result would be Israel losing its Jewish character."
President Trump said, somewhat jokingly the report claimed, that "there's logic in that."
"In a few years Israel will have a prime minister named Muhammad."
The president also told the Hashemite monarch that his administration was best suited for achieving a final status agreement between Israel and the PA.
"I want to advance a peace agreement in the Middle East because if my administration can't get a deal, no administration can."
King Abdullah balked at the prospect of a new US-backed peace plan, given the current regional tensions.
"Don't present the plan now; there are too many difficulties right now," Abdullah is quoted as saying.