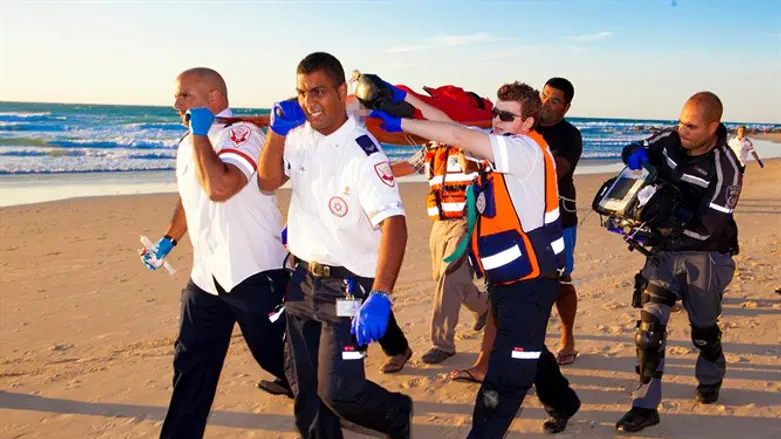 MDA personnel evacuate drowning victim
Asaf Barzinger, MDA spokesman
Since the swim season began on March 17, 49 people have drowned in Israel's beaches, pools, and other water sources.
Thirteen of the casualties were children under the age of 10.
In addition, Magen David Adom (MDA) paramedics around Israel provided life-saving treatment to 152 near-drowning victims, including seven who were critically injured and required CPR, five who were in serious condition, 17 who were in moderate condition, and 123 who had suffered light injuries. All of the near-drowning victims were transferred to hospitals.
Nineteen of the incidents occurred in private pools, with an additional 30 occurring in public pools. An additional 109 people were pulled from the Mediterranean Sea, while five drowned or nearly drowned in the Kinneret (Sea of Galilee), and eight in the Dead Sea. Another six incidents occurred on Eilat's beaches, with three in the Jordan River and two in the Yarkon River. The remaining two incidents occurred in Gan Hashlosha National Park and the Yardenit baptismal site.
MDA CEO Eli Bin said, "During the summer, MDA personnel are on special alert due to the season's many dangers, among them the danger of drowning when so many Israelis vacation at the sea, at pools, or at other sources of water."
"We are in the midst of the month of August, and I turn to the public, requesting they listen to the lifeguards' orders at the beach and pool, and keep the safety rules at private pools. Avoid unnecessary dangers, so that we can end the vacation with enjoyment and not with additional tragedies. In any case of emergency which requires medical aid, call MDA's national hotline: 101," he said.