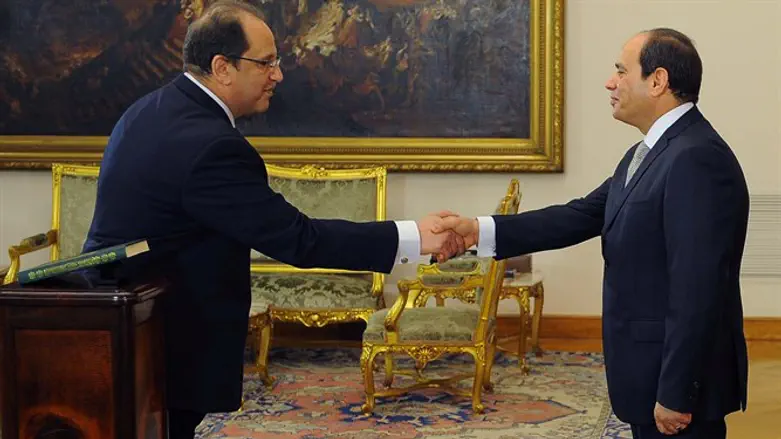 Abbas Kamel (L) and Egyptian President Abdel Fattah Al-Sisi
Reuters
The London-based Al-Hayat newspaper is reporting that Egyptian General Intelligence chief Abbas Kamel visited Tel Aviv on Wednesday in an attempt to advance the efforts to reach an agreement with Hamas in Gaza.
Palestinian Arab sources told the newspaper that Kamel had traveled to Israel to discuss the details of the arrangement, which would include an Israeli agreement to a ceasefire, implementation of humanitarian projects in Gaza and continued indirect negotiations with Hamas over prisoner exchanges.
It was also reported that Kamel is expected to visit Ramallah on Thursday and meet Palestinian Authority chairman Mahmoud Abbas, with whom he will also discuss the attempts to reconcile between Abbas' Fatah faction and Hamas.
The report comes a day after Defense Minister Avigdor Liberman decided to reopen the Kerem Shalom crossing and expand the designated fishing zone off the Gaza Strip to nine nautical miles.
A diplomatic source, meanwhile, made clear that any future arrangement with Hamas would include the return of the soldiers and civilians held in Gaza.
"There will be no real arrangement with Hamas without the return of our soldiers and civilians and the promise of quiet for a lengthy period of time," the official said.
"The current calm is the result of aggressive IDF activity that will continue as necessary. The quiet was achieved following the understandings advanced by the Egyptians and the United Nations. In light of this, operations in Kerem Shalom were renewed and the fishing area was expanded," the source added.
On Wednesday night, UN Secretary-General Antonio Guterres welcomed Israel's decision to reopen the Kerem Shalom crossing to Gaza and appealed for support for UN efforts with Egypt to address the crisis in the coastal enclave.
Guterres said in a statement that he was "encouraged to see those concerned have responded to calls to avoid the devastating impact of yet another conflict on the civilian population in and around Gaza."
He called on "all parties" to support efforts led by UN envoy Nickolay Mladenov and Egypt "to avoid an escalation and address all humanitarian issues in Gaza and the return of the Palestinian Authority to Gaza."