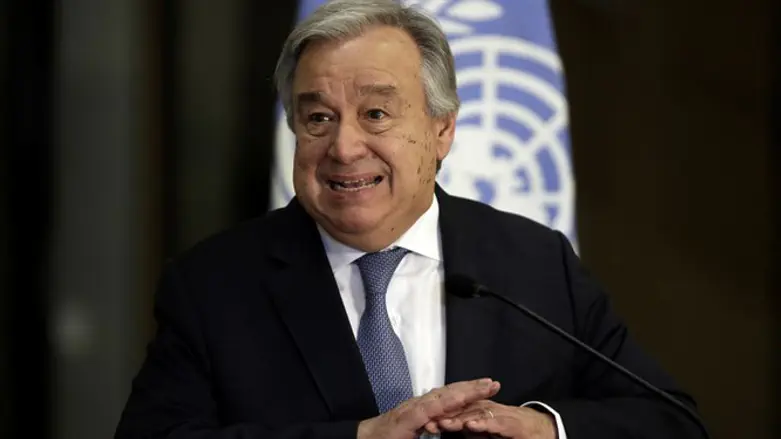 Antonio Guterres
Reuters
UN Secretary-General Antonio Guterres on Wednesday welcomed Israel's decision to reopen the Kerem Shalom crossing to Gaza and appealed for support for UN efforts with Egypt to address the crisis in the coastal enclave, AFP reported.
The IDF announced on Wednesday morning that, following the decision of Defense Minister Avigdor Liberman, in consultation with Chief of Staff Gadi Eizenkot, the Kerem Shalom crossing will be re-opened this morning for full activity.
As well, the designated fishing zone off the Gaza Strip will be expanded to nine nautical miles.
Two weeks ago, Liberman ordered that fuel and gas be banned from entering Gaza through the Kerem Shalom crossing. The decision was made in light of the continued launching of firebombs from Gaza.
Guterres said in a statement on Wednesday that he was "encouraged to see those concerned have responded to calls to avoid the devastating impact of yet another conflict on the civilian population in and around Gaza."
He called on "all parties" to support efforts led by UN envoy Nickolay Mladenov and Egypt "to avoid an escalation and address all humanitarian issues in Gaza and the return of the Palestinian Authority to Gaza."
The opening of Kerem Shalom came as speculation mounted over indirect negotiations mediated by Egypt and UN officials to reach a long-term truce between Israel and Hamas.
The Egyptian-brokered deal between Israel and Hamas is expected to include improvement in the humanitarian conditions in Gaza, as well as the construction of a seaport in the Egyptian city of Ismailia and an airport in Sinai.
The first stage of the deal will include a cessation of the violent riots on the Gaza border, as well as the incendiary kites and balloons sent into Israel by Gaza terrorists. In exchange, Israel will reopen the Kerem Shalom crossing, and Egypt will open the Rafah crossing, which until now has nearly always remained closed.
In the second stage, Israel would allow unrestricted import and export into and out of Gaza, and increase the amount of Israeli electricity given to Gaza. The third stage would include an airport, seaport, and the construction of a power station in Sinai.
Hamas has clarified that any deal it signs with Israel requires the support of the Palestinian Authority and other factions.
A senior Israeli official involved in the details of the contacts told the Los Angeles Times on Wednesday that the agreement with Hamas is "virtually done."