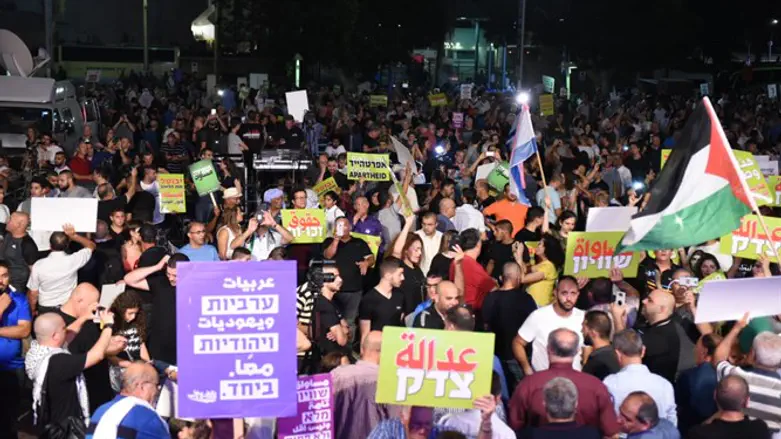 Demonstration in Tel Aviv
Kobi Richter/TPS
During a demonstration by Arabs and left-wing activists against the Nationality Law held Saturday night in Rabin Square, the song "Where are the Millions?" was played.
Participants in the rally brandished PLO flags.
The song, by singer Julia Boutros, was popular in the Palestinian Authority during the so-called 'stabbing Intifada' of 2015, and encourages violence against Israelis.
Palestinian Media Watch posted a a translated video of the song.
The lyrics to the song read :"Where are the millions? Where is the Arab people? Where is the Arab rage? Where is the Arab blood? Where is the Arab honor? ...
"In my chest is a [whole] gun magazine, where are you, my brothers?
"The revolution [needs] men, it is not bought with money The revolution of a people holding rocks against fleets
"[They] sacrificed from young to old, out of obligation and not as a kindness...
"Allah is with us. He is stronger and greater than the Children of Zion
"Even if they hang, kill and bury [me], my land will not be humiliated
"My red blood will water the green with the flavor of lemon
"The fire of revolution is getting stronger and flaring up. We are the victors."