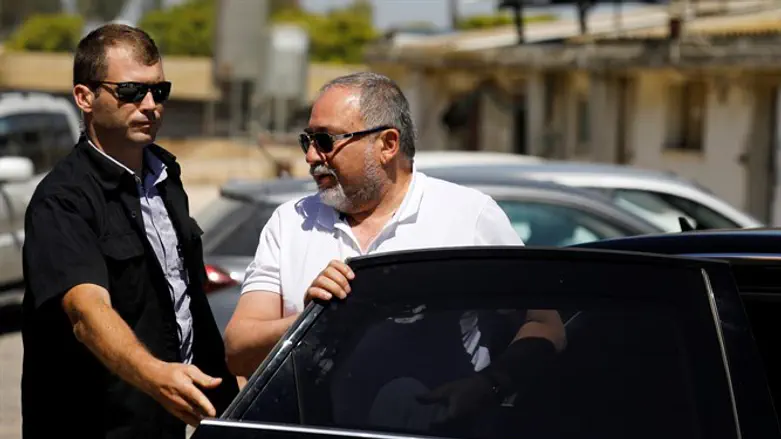 Avigdor Liberman
Reuters
Council heads and mayors in southern Israel are furious at Prime Minister Binyamin Netanyahu and Defense Minister Avigdor Lieberman for their desire to seek a cease-fire with Hamas instead of launching a military operation to destroy Hamas and restore Israeli deterrence after Hamas launched about 200 rockets against Israel in under two days.
Tamir Idan, head of the Sdot Negev Regional Council, said that "no one has informed us of the cease-fire. There was no hesitation. Hamas determines when fighting will begin, and when it will end."
"We expect a military operation that will remove Hamas, or a comprehensive and long-term arrangement that will include all kinds of terror," Idan added.
Sderot Mayor Alon Davidi echoed Idan's sentiments: "I understand the desire to reach negotiations, but in my opinion the cease-fire is a mistake. We will have to reach an operation, to eradicate this terror. The intermittent war is unhealthy for us and not good for the State of Israel," Davidi said.
Gadi Yarkoni, head of the Eshkol Regional Council, expressed the hope that any peace agreement with the Gaza Strip would include economic support for the communities surrounding the Gaza Strip. "An ongoing reality of four months of security tension reached an extreme point yesterday. We went through a day of heavy barrage of fire to our communities and canceled educational activities and cultural and community events."
"In the past few hours there has been quiet and we hope that the latest tension has been 'the storm before the calm', after which there will be an arrangement that will ensure long-term calm," Yarkoni said.
Jewish Home MK Bezalel Smotrich slammed Defense Minister Liberman for failing to take decisive action against Hamas.
"Defense Minister Avigdor Liberman is proving to a ceaseless prattler. He is one of the weakest and strategically ignorant people in the State of Israel, and the one who has the greatest gap between his words and his actions. He cannot to serve as defense minister in the next term," Smotrich said.