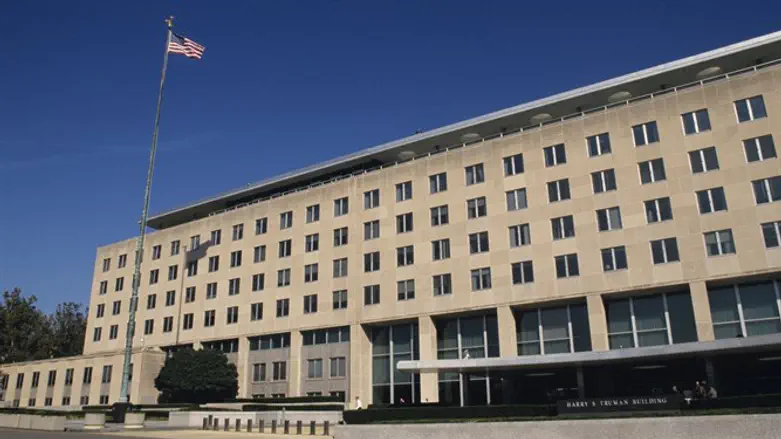 State Department building
Thinkstock
The State Department said on Thursday that the United States is watching developments in Gaza closely and believes the situation is very concerning but Israel has a right to defend itself.
"We've been watching this as it has been unfolding, and it's a very concerning situation that has taken place in Gaza," State Department spokeswoman Heather Nauert said at a press briefing.
"Overall, we condemn the launching of missile attacks into Israel and call for an end to the destructive violence. We've seen reports that 180 or so rocket attacks have taken place, shot from Gaza into Israel, and we fully support Israel's right to defend itself and to take actions to prevent provocations of that nature," she stressed.
Pressed by a reporter who insisted that the current escalation was not started by Hamas, Nauert replied, "I'm not going to get into how this thing started. Let's not forget that Hamas bears ultimate responsibility for the dire humanitarian situation in Gaza. It's a tremendous concern of ours."
According to IDF data, more than 180 rocket and mortar launches from Gaza into Israeli territory have been identified since Wednesday night.
On Thursday evening, Israeli fighter jets leveled a five-story building in the Rimal neighborhood in northern Gaza.
The IDF said that the building serves as the command center for Hamas' internal security forces, which is responsible for and manages all internal security activities in the Gaza Strip. Some members of the internal security unit are also active in the military wing of Hamas and take part in armed activity against Israel.
Early Thursday morning, IDF fighter jets targeted over 20 terror sites in military compounds and in a Hamas training camp.
Among the sites targeted were a weapons manufacturing and storage facility, a complex used for the Hamas' naval force, and a military compound used for rocket launching experiments.
On Wednesday, Nickolay Mladenov, the UN envoy to the Middle East, expressed concern over the latest escalation in Gaza and particularly by the multiple rockets fired towards Israel.
Jason D. Greenblatt, the U.S. Special Representative for International Negotiations, criticized Hamas in the wake of the latest escalation in Gaza.
"Hamas regime again is launching rockets at Israeli communities. Another night of terror and families huddling in fear as Israel defends itself. This is the Hamas regime's choice. Hamas is subjecting people to the terrifying conditions of war again," he tweeted.