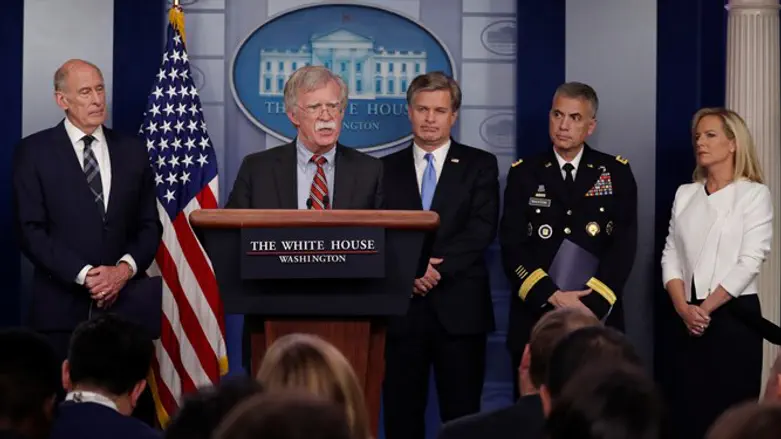 Bolton (podium) holds security briefing in White House press briefing room
Reuters
US National Security Advisor to the President Ambassador John Bolton spoke in an interview with Fox Business Network's Lou Dobbs Tonight about the Trump administration's reimposition of sanctions against Iran that began at midnight.
Dobbs noted that the President followed through on his promise to undo the Obama-era nuclear deal with Tehran, stating the first set of returning sanctions target the Iranian automotive sector as well as gold and other metals. A second set of sanctions targets oil, while sanctions against the Iranian central bank will be reimposed in November. Iranian President Hassan Rouhani responded, saying Iran couldn't hold talks with the United States while under those sanctions but also acknowledging they would be willing to talk if the Trump administration is sincere.
Bolton clarified that "the purpose of the phased impact of the sanctions is to provide a fair wind-down period for companies that relied on the deal made in 2015.
"But I think the effect of the sanctions has already been felt in Iran," Bolton said. "Since the President announced our withdrawal from the Iran nuclear deal, the Iranian currency has decreased by nearly half. We've seen millions and millions of dollars in currency leaving Iran as the elites move their assets out of the country for fear of this, and we've seen a continuation of demonstrations and even riots in towns and cities across Iran, as the economy has gone into a tailspin. So, I think the effects are already being felt."
Asked to explain the Administration's attitude toward future negotiations with Iran, Bolton responded, "the President has said since really beginning in the 2016 campaign that he's open to negotiating with leaders like Rouhani, like with Kim Jong-un to sit down with them. The Iranians have used negotiations in the past just to delay the effect of sanctions and pressure and to continue making progress on their nuclear weapons program.
"So, if the Iranians really want to sit down and talk about not just the failed nuclear deal but their ballistic missile program and their support for terrorism and their belligerent military activity in the region, we're prepared to do that. That's a suggestion that France's President Emmanuel Macron has made that we'd like to see the Iranians carry through on."
Trying to asses Iranian sincerity regarding possible negotiations in light of their expressions of willingness, Bolton did not indulge in hysterical optimism: "In the past, these kinds of statements have been propaganda. We'd like to see some real performance from Iran. But the President made it clear he'd be willing to speak as long as we cover all these issues, not just the failed nuclear deal."
Amb. Bolton looks on as Pres. Trump briefs press after NATO summit, Brussels
Reuters
Dobbs then asked Bolton how far President Trump was prepared to go in imposing tariffs on China, saying "obviously, this is starting to spiral upwards. It is still a minute fraction of the total trade relationship which a lot of commentators forget when they start trying to explain why a market moves, monolithically at least in the minds of some."
Bolton answered: "I wouldn't underestimate how determined President Trump is. I think the ball's really in China's court. Look, for 20 years now, almost, as part of the World Trade Organization, they have pursued a mercantilist policy in what should be a free trade environment.
"And they've done worse than that. They've stolen American and European technology. They've engaged in forced technology transfers. They've been biased against foreign investors and traders in China.
"And for too many years, American administrations have let the Chinese get away with it. So, I think the purpose of the President's tariffs is not just related to the trade deficit, but to force China to be held accountable for the violations of the agreements it's made and the commitments it's made how to deal internationally."
Dobbs said, "The President in less than two years has broken through, it seems, to the public consciousness about what the reality is that we have been on the losing end of a trade war that's been waged against this country, at least, at least since 2001, and China's admission to the World Trade Organization."
Bolton answered, "The President said in the context of the European Union, look, if you want to talk free trade, let's have no tariffs, let's have no nontariff barriers, let's have no subsidies. If you want to have a free trade zone like we have internally in the United States, we're prepared to take a look at that.
"But in the case of China, in particular, I think even the Europeans agree they've taken advantage of a framework of free trade for their own policies and they've succeeded."
Bolton: Determined
Reuters