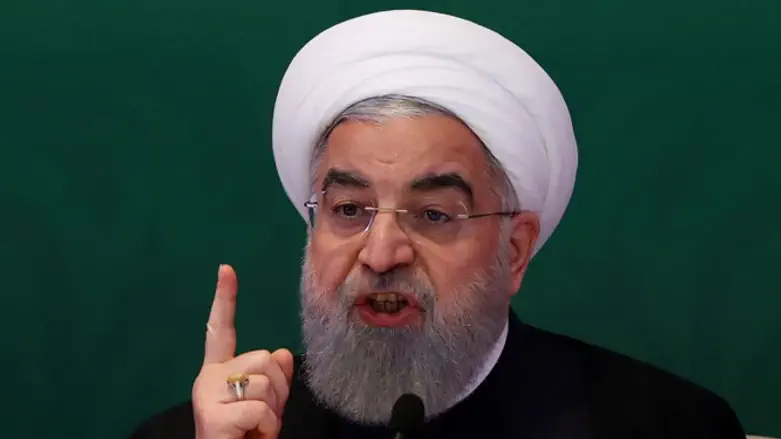 Rouhani
Reuters
Iranian President Hassan Rouhani on Monday dismissed Washington's call for new nuclear negotiations at the same time as it reimposes sanctions on his country, AFP reported.
Rouhani argued that the U.S. call "doesn't make sense" and is an attempt at "psychological warfare."
"If you're an enemy and you stab the other person with a knife and then you say you want negotiations, then the first thing you have to do is remove the knife," he said in an interview on state television.
Rouhani's comments came after President Donald Trump signed an executive order officially reinstating U.S. sanctions against Iran.
The order marks the first round of sanctions to be imposed on Iran following Trump's withdrawal from the 2015 nuclear agreement in May. The sanctions target Iran's access to American dollars and steel and automobile industries, ban trade with Iran in gold and other precious metals, and include other sanctions which were lifted under the 2015 deal.
The second round of sanctions will take effect on November 4, 180 days after the U.S. withdrew from the agreement. Those sanctions will target Iran's oil and shipping industries.
"They want to launch psychological warfare against the Iranian nation," Rouhani said later, according to AFP. "Negotiations with sanctions doesn't make sense."
Rouhani's comments are also his first official response to Trump's call for talks without preconditions between the U.S. and Iran.
An adviser to Rouhani said last week the only way back to talks with the United States was for Washington to return to the nuclear deals which Trump exited in May.
Iran's Interior Minister Abdul Razza Rakhmani Fazi rejected Trump's call as well, insisting the U.S. is untrustworthy and therefore Iran cannot recognize it as a negotiating partner.
Trump on Saturday pointed out in a tweet that Iran's economy has been failing and added the ball remains in Iran's court in deciding whether to meet with him.
Iran's currency has lost around half its value since Trump announced the U.S. would withdraw from the pact.
Rouhani's government has taken emergency measures to stem the collapse of the rial and brace for the return of sanctions.
On Sunday, it eased foreign exchange rules, allowing unlimited tax-free currency and gold imports, and reopening exchange bureaus after a disastrous attempt to fix the value of the rial in April led to widespread black-market corruption.
With senior religious authorities calling for a crackdown on graft, the judiciary said Sunday it had arrested the central bank's foreign exchange boss, along with a government clerk and four currency brokers.
The measures appeared to calm the markets on Monday, with the rial strengthening to 95,500 to the dollar -- up a fifth on its record-low of 119,000 a fortnight ago, according to AFP.