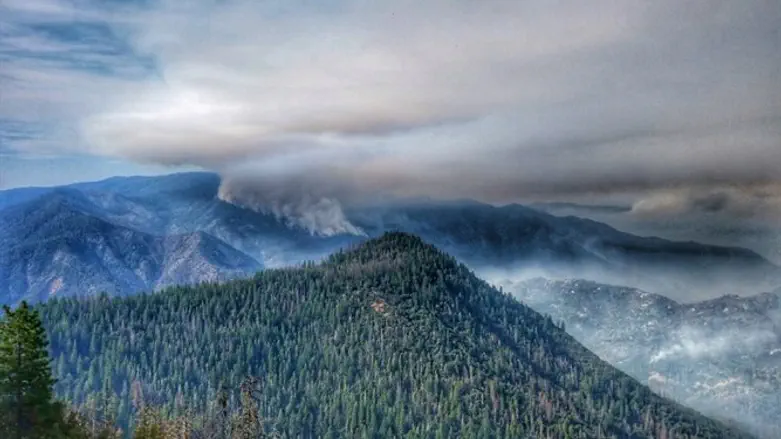 California wildfire
Reuters
The final summer session of Camp Tawonga in Northern California has been canceled due to smoke from the Ferguson Forest Fire.
In a letter to parents also posted on social media, the director of the Jewish camp, Jamie Simon, said that "the U.S. Forest Service, the Tuolumne County Health Department and CAL FIRE all recommend that Camp Tawonga remains closed for at least another week due to unhealthy air quality and volatile fire conditions." She also said the camp property was not in danger.
"Our thoughts are with the thousands of brave men and women still fighting this fire and many others in California," she wrote.
More than 300 campers from the previous camp session were sent home on July 31 due to the fire and the backfires set to contain the blaze.
About 40 of the campers came from outside the Bay Area and were temporarily hosted by Camp Tawonga families. The campers are receiving full refunds, according to J. The Jewish News of Northern California.
"In Tawonga's 93-year history, we have never before had to cancel a session, and we want to do everything we can to support our Tawonga families during this time," read the email sent to parents, according to J.
The last blaze to impact Tawonga was the Rim Fire in August 2013, which covered 250,000 acres and reached the grounds of the camp, where it burned three staff buildings. The Ferguson Fire started in the Sierra National Forest and is burning eight miles south of camp.
The 25-day old fire, which moved over the weekend into Yosemite National Park leasing to the closure of all but one entrance, as of Sunday evening had burned 89,633 acres (140 square miles) and was 38 percent contained. Full containment is estimated by Aug. 15, according to Cal Fire.