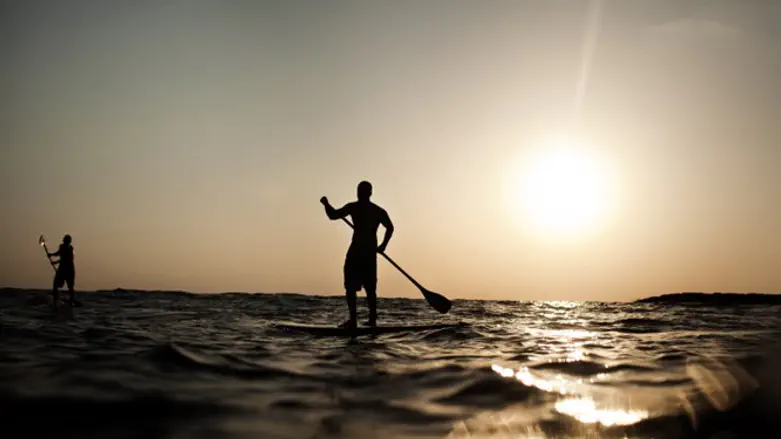 Tel Aviv beach
Flash 90
A University of Kentucky sophomore was missing in Israel after a late night swim in the Mediterranean Sea.
TeNiya Jones, a biology major with a minor in Islamic studies, was on a weekend visit to Israel from Jordan, where she was enrolled in a seven-week exchange program. She was due to return home to Fort Myers, Florida, in a week.
Jones, 19, went out for the swim with two other exchange students on Saturday night. According to one of the students, a strong current pulled the three of them out deeper to sea while they were swimming. Two of the students were able to swim back to shore, but Jones did not make it back, according to a statement issued by the University of Kentucky.
This is a communication regarding an accident involving one of our students who was abroad in the Middle East. Our thoughts and prayers are with the student's family, friends & our other students traveling; we will keep you informed as this fluid situation continues to unfold.

— University of Kentucky (@universityofky) July 29, 2018
"Our thoughts and prayers are with TeNiya, her family and the students and others impacted," the statement issued Sunday morning said. "We are in continual contact with TeNiya's family, officials in Israel, officials from the State Department and our Congressional delegation to provide all the support we can for the family, students and others involved. We will do everything possible to provide whatever support is needed."
Jones' mother, Tosha Thomas-Mora, said she received a call from Bill Bull, vice president of the university's health and safety security, about 2 1/2 hours after her daughter went missing on Saturday night informing her of the incident.
Israel launched a search and rescue operation to find Jones, and officials from the US Embassy have been involved in the process, according to the university.
Thomas-Mora was scheduled to travel to Israel on Monday.
Hadashot news reported Monday that the body of a young woman who was missing for several days was pulled up near the Carlton beach in Tel Aviv in the morning hours. The report did not name the missing woman.