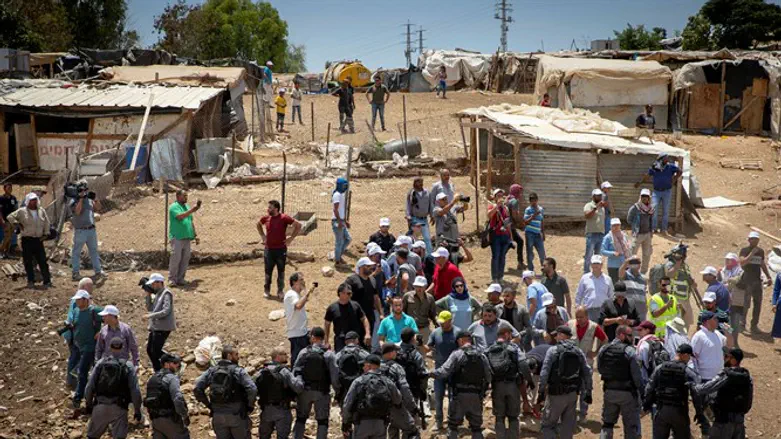 Khan el Ahmar
Hillel Meir/TPS
The leaders of the Knesset Land of Israel Lobby, MK Yoav Kish (Likud) and MK Bezalel Smotrich (Jewish Home) wrote a letter to Prime Minister Binyamin Netanyahu, Defense Minister Avigdor Liberman and Justice Minister Ayelet Shaked prior to the hearing in the High Court of Justice regarding the illegal Bedouin outpost of Khan al-Ahmar.
The heads of the lobby noted that the Khan el-Ahmar case is a watershed and a fundamental test case on Israeli sovereignty and entails strategic interests of the State of Israel, and therefore the outpost must be evacuated immediately.
They also noted the absurdity in which the principle of 'the final decision,' which was invoked to prevent any further delay in the the destruction of the Jewish town of Amona and the Netiv Ha'avot neighborhood, was trampled upon by the High Court of Justice.
"After a decade of deliberations and petitions, the court ruled in a conclusive judgment that there was no reason to delay the evacuation and that there was no legal dispute over the illegality of the compound. However, despite the rule set by the Supreme Court in evacuating the settlements of Amona and Nativ Ha'avot, Judge Baron recently decided to accept another unfounded petition on the eve of the evacuation, which was filed by attorneys representing the Palestinian Authority," MKs Kish and Smotrich said.
The asked the prime minister, defense minister, and justice minister to stand firm in their commitment to evacuate the illegal outpost and not to bow down to foreign elements.
In addition, they demanded that the State's response to the High Court hearing be clear and clear that since the outpost is clearly illegal there is no basis for changing the 'final judgment' already given by the High Court of Justice.
"The state must not miss this moment. [It must] enforce its laws and prove its sovereignty, while Palestinian flags are proudly raised on its lands," wrote Smotrich and Kish.