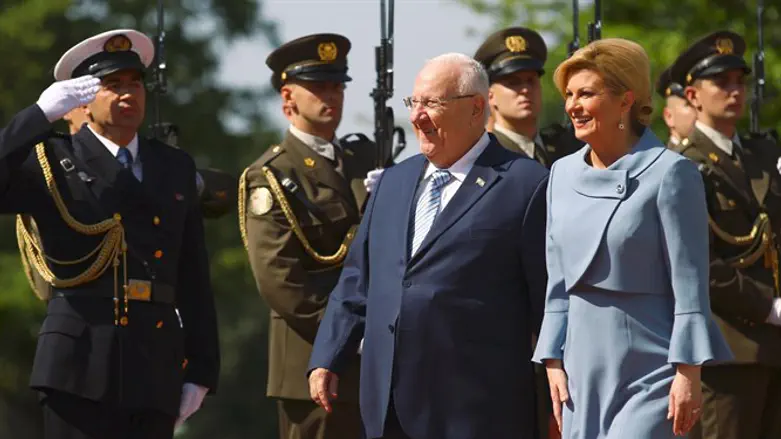 Croatia's President Kolinda Grabar-Kitarovic and Israeli President Reuven Rivlin
Reuters
President Reuven Rivlin met today with Croatian Prime Minister Andrej Plenković in Zagreb. He met earlier with his counterpart Croatian President Kolinda Grabar-Kitarović.
During the meeting with the Croat Prime Minister, the President noted the growing good relations between the two countries and future cooperation in a variety of fields, including agriculture, economy, tourism, and, of course, security.
The meeting was attended by Agriculture Minister Uri Ariel, Economy Minister Eli Cohen, and their counterparts Agriculture Minister Tomislav Tolušić and Economy Minister Darko Horvat.
Rivlin with Croat Prime Minister
Amos ben Gershom, GPO
Later, the economic ministers of both countries signed agreements of cooperation with their counterparts. As part of the agreements, the Economy Minister signed a mutual cooperation declaration between the Israeli and Croatian Economy Ministries in which the ministers agreed to work together towards increased economic cooperation between Israel and Croatia.
The two ministers noted the small volume of trade in recent years does not reflect the full potential of both markets, as well as the ability of their business communities to cooperate and enjoy each other's strengths, competitive advantages, and market opportunities.
"The visit to Croatia and signing the agreement are intended to promote economic relations between the two countries and strengthen transactions on the agenda," Economy and Industry Minister Eli Cohen said during the cooperation agreement signing. "The current volume of trade does not reflect the trade potential between the countries and adding the business delegation is intended to place Croatia as a destination for Israeli exporters."
Agriculture Minister Uri Ariel met with his Croatian counterpart Tomislav Tolušić to promote and expand cooperation between the two countries and Israeli companies following the signing of an agricultural agreement in November 2017.
Minister Ariel said that "Croatia and Israel are striving to strengthen the existing friendly relations between the two countries. We're aware of the importance of agriculture in both countries. The constant shortage of water in our region has led to developing innovative technologies and creative solutions for saving and using water from irrigation and use of marginal water, treatment and purification with reclaimed water, and seawater desalination. You can be sure that we in Israel, the public and private sectors working in fields of water and agricultural technology, will be a true partner in advancing these areas in both countries. In light of the joint meetings, I expect a work plan and to integrate the execution. The agreement signed is a first step towards a better joint future."
Earlier in the day, the President participated in a wreath-laying ceremony in memory of those killed in the Croatian War of Independence at the monument at the Mirogoj cemetery.
Croatia
iStock