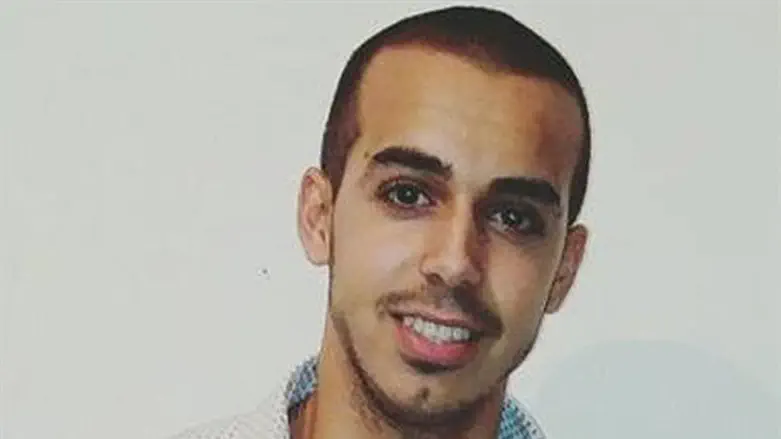 Staff Sergeant Aviv Levi
IDF spokesperson
Staff Sergeant Aviv Levi, 20, was named as the IDF soldier killed on Friday by a Hamas sniper near the Gaza-Israel border.
Levi, a resident of Petah Tikva, served in the IDF's Givati Brigade.
Levi was killed two weeks before his 21st birthday and three months before the end of his IDF service. He is the first IDF soldier to be killed in the Gaza border area since 2014's Operation Protective Edge.
Levi's parents Perry and Yaakov, and two younger siblings Noy, 15, and Dan, 4, received the news while on vacation in Italy. A fourth sibling, 19-year-old Orian, is serving in the IDF.
The funeral will take place on Sunday at noon at the Petah Tikva-Segula military cemetery.
A terrorist squad shot at IDF troops, severely injuring Levi in his chest. He later succumbed to his wounds, the IDF Spokesperson's Unit said.
Following the serious incident, IAF jets on Friday evening launched a wide-scale attack against Hamas military targets throughout Gaza.
In an emotional Facebook post, Levi's girlfriend Shachar Erez wrote, "Who would have believed that you would leave me so soon? My dear beloved, my fighter. I can't digest what's happened since the moment you left me. My heart is burned, and my tears don't stop flowing. Who would have believed you would leave me so soon? You went to deal with more of the regular Friday riots, and this is what happened. They said there was an injured soldier...and all I wanted was to hear that you're okay and all is well with you."
"The moment they said it, I burst out crying and fell on the floor. You were in the border area for days and nights, and I always told you the same thing - 'take care of yourself.' You were never afraid of anything. It didn't matter what stood in your way. Whenever we spoke you would get annoyed at your soldiers for taking off their equipment. You were always ready and prepared for every little thing. It's true that we weren't together for such a long time, but it was a significant period during which we became attached to each other and got to know each other....we would wait for the moment we'd be able to meet, and when the weekend came we were at home together. The 'good morning' that you made sure to say every morning, and the 'good night' every night. It was always important to you that I go to sleep happy, even after a hard day."
Erez ended her post with, "I refuse to believe that you're no longer here with me. I refuse to believe that I won't be able to hear your voice again. My beloved, I will always remember you and you will always be in my heart. Watch over me and your amazing family from above. We miss you so much."