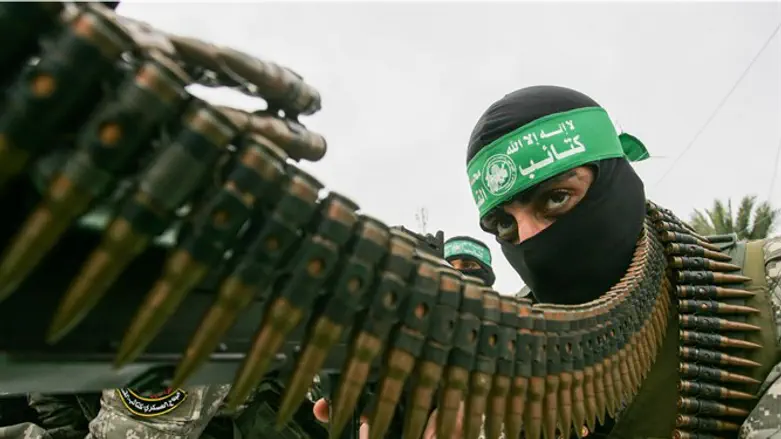 Hamas terrorist
Flash 90
Hamas and Israel have agreed on a ceasefire in Gaza, a spokesman for the terrorist group claimed on Friday night.
"With international and UN efforts, we reached (an agreement) to return to the previous state of calm between the (Israeli) occupation and the Palestinian factions," Hamas spokesman Fawzi Barhoum said in a statement quoted by AFP.
Earlier, Al Jazeera TV reported that Hamas and the Islamic Jihad had informed mediators that they were ready for a ceasefire that went into effect at midnight.
Israel has not confirmed that a ceasefire is indeed in place.
Earlier on Friday evening, the IDF struck 60 military targets belonging to Hamas in northern and southern Gaza, in response to an incident near the border in which an IDF soldier was killed by terrorist snipers.
In the wake of the escalation, the UN's Middle East envoy, Nickolay Mladenov, urged calm and wrote, "Everyone in Gaza needs to step back from the brink. Not next week. Not tomorrow. Right NOW! Those who want to provoke Palestinians and Israelis into another war must not succeed."
Defense Minister Avigdor Liberman spoke to Mladenov later on Friday and told him, "We will respond harshly and all the responsibility from now on is on the Hamas leadership."
"If Hamas continues with the rocket attacks, the result will be much more difficult than they think. The responsibility for all the destruction and human life will be on Hamas," Liberman added.
Gaza terrorist groups have largely ignored previous ceasefires and continued to attack Israel.
Just last week, Hamas and the Islamic Jihad declared a ceasefire after firing a barrage of 200 rockets on southern Israel, but continued to fire balloons and kites rigged with firebombs and other makeshift incendiary devices into Israeli territory.
(Arutz Sheva's North American desk is keeping you updated until the start of Shabbat in New York. The time posted automatically on all Arutz Sheva articles, however, is Israeli time.)