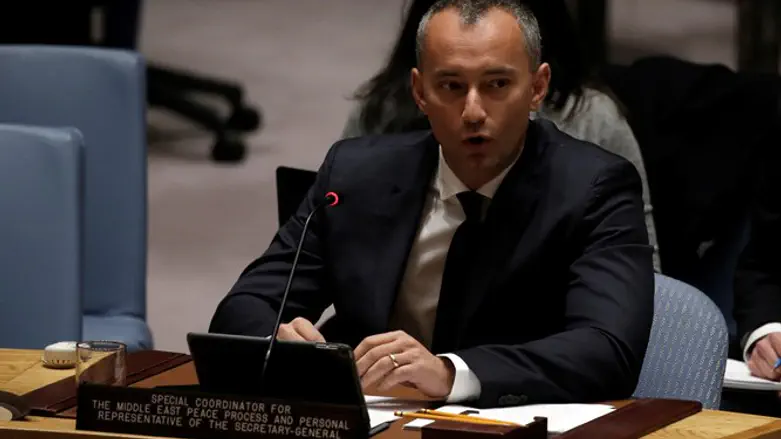 Nickolay Mladenov
Reuters
The UN envoy to the Middle East urged calm on Friday in the wake of the escalation in Gaza.
"Everyone in Gaza needs to step back from the brink. Not next week. Not tomorrow. Right NOW!" the envoy, Nickolay Mladenov, wrote on Twitter.
"Those who want to provoke Palestinians and Israelis into another war must not succeed," he added.
Defense Minister Avigdor Liberman spoke to Mladenov later on Friday and told him, "We will respond harshly and all the responsibility from now on is on the Hamas leadership."
"If Hamas continues with the rocket attacks, the result will be much more difficult than they think. The responsibility for all the destruction and human life will be on Hamas," Liberman added.
IAF jets earlier on Friday evening launched a wide-scale attack against Hamas military targets throughout the Gaza Strip following a severe shooting attack against IDF soldiers earlier in the afternoon.
"The IDF views today's attack and the hostile activity orchestrated by Hamas throughout the last months with great severity. Hamas chose to escalate the security situation and will bear the consequences for its actions," said the IDF Spokesperson's Unit.
"IDF troops are on high alert and will continue to operate in order to ensure the safety of Israeli civilians," it added.
On Friday evening, terrorists from Gaza fired three rockets toward Israeli territory.
The Iron Dome aerial defense system intercepted two of them. A third rocket exploded in an open area in the Shaar Hanegev region. There were no reports of physical injuries or damages.
(Arutz Sheva's North American desk is keeping you updated until the start of Shabbat in New York. The time posted automatically on all Arutz Sheva articles, however, is Israeli time.)