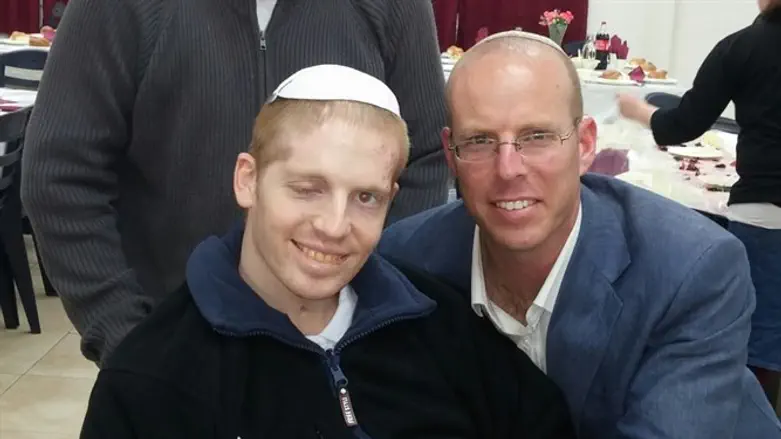 Yehudah and David Hayisraeli
צילום: בניה הישראלי
David Hayisraeli. the father of Yehuda Yitzhak Yisraeli, who was badly wounded during Operation Protective Edge in 2014, spoke to Arutz Sheva about his son's long road to recovery.
Yehuda, a Givati ​​reconnaissance soldier, was hit in the head by shrapnel as he attempted to locate missing solder Hadar Goldin.
Since his injury, Hayisraeli has undergone a lengthy and complex rehabilitation process in the hospital. At first he lay unconscious, surrounded by his wife, parents and family, who did not leave his bed and did not stop believing and hoping for his recovery. Hayisraeli eventually regained consciousness and began an intensive rehabilitation process, during which he re-learned basic skills.
"Baruch Hashem, Yehuda continues to rehabilitate, performs cognitive and motor rehabilitation work, goes on therapeutic walks and develops in emotional work as well. The Master of the Universe sent us a challenge, to educate our children and to educate my son Yehuda, who today is in a different situation that requires a different work," his father said.
"Yehuda, Baruch Hashem, does the work. He does not surrender even though it is difficult, very difficult for him. He has an injury to the right side of the brain and therefore the left side [of his body] is weaker so it is not easy for him to step on his left foot, but he does it. He is careful about prayers in the minyan. It is his love. It is difficult for him to pray alone. He always insists on praying in a minyan, and he stands up by himself for every kaddish and modim derabanan and is careful not to sit then.
"He recently managed to walk along with the physiotherapist. He walked with the help of a crutch, and he was held on his right side. Of course, there is still a lot of work and prayer for Yehuda Yitzhak Ben Iris to keep moving forward."
The Hayisraeli family conducted a protracted struggle against the Defense Ministry, which refused to allow the family home in Ofra to be renovated to become disabled-accessible because the town has no plans. The people of Israel were called upon to help and finance, through mass mobilization, the costs of making the house accessible for Yehuda.
Jews around the world mobilized and raised NIS 1,565,957 ($429,463) in three days.
"At the time, there was talk of a residential unit that would suit us, because our house was not on the ground level and [Yehuda] needed a unit with a wheelchair lift that simply goes up and a ramp for going down so that Yehuda can easily walk to the synagogue," David Yisraeli said.
"The Defense Ministry did not did not receive the approval of the Defense Ministry's legal adviser, but the rehabilitation department did its best, and we thank it for this. We are accompanied by the Defense Ministry Rehabilitation Department and they are doing their best.
"We feel that everyone is a partner in the rehabilitation process, because in fact Yehudah went out for the people of Israel, and because of that he is suffering. He has a great deal of psychological suffering. It's difficult for him to be disabled. He wants to be healthy and has great motivation, but it is clear that his agony is a general torment. It is not an affront to his actions or private, but that is what the people of Israel must go through.
"His anguish is the agony of everyone and he can probably take them on his shoulders. The Master of the Universe decided that he could take it on his shoulders. And his successes - the fact that he is getting better and walking better, it gives strength to the people of Israel, it gives strength to the army and in that sense he is together with everyone."
In 2017, Yehuda's wife Rivka divorced him. They had two children.
David explained how his son coped with the divorce.
"There are conversations, especially with an effort to give him strength. It's not simple, he talks and communicates but it's not simple, it's complicated. He talks with the children and he meets with them once a week. And every third Shabbat we congratulate her on her success and progress and see that the children will really progress and grow. And Baruch Hashem, in our meetings we feel that the children feel good.
"Of course, this part was also hard for him but he has to rise up. We pray for his complete recovery, and that he will also rebuild his family, but we also know that G-d decides what the pace and the ability are, and the possibilities are open to him. We learned about our flesh and soul and that as soon as we know that the Almighty can do everything, the sky is not the limit, and no doctor can say, 'Until here he will come, and beyond that no.'
"We turned to the Master of the World, and he gives us gifts every day. Sometimes smaller gifts, sometimes bigger gifts, but all the time, all the time there was progress. It is not simple and it's the work of a lifetime. The war is not over for us. It continues all the time. And certainly for Yehuda Yitzhak it continues all the time. He is constantly fighting, and we try to convey that we are with him.