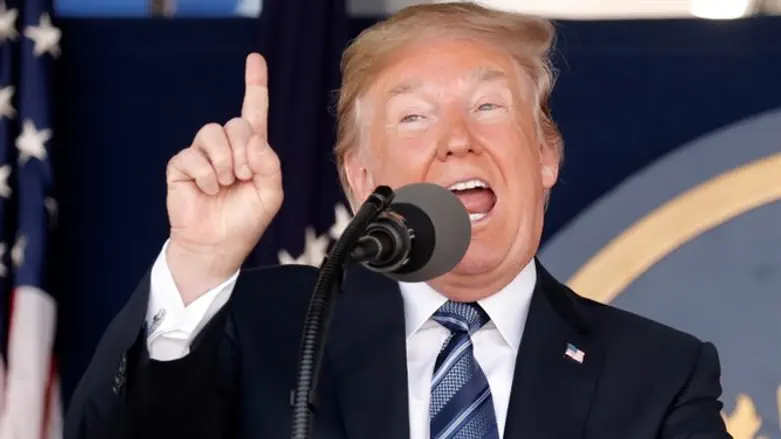 US President Donald Trump
Reuters
The US offered Hamas significant financial aid to help rehabilitate Gaza, The Washington Post reported.
However, the offer would require a complete cessation of terror against Israel, of all kinds, and Hamas must return two Israeli civilians, as well as the bodies of two IDF soldiers, to Israel.
Later on Friday, Hamas responded to the offer with scorn.
Slamming the US for "adopting the Israeli story," Hamas spokesman Sami Abu Zohari claimed the Trump administration "has turned its senior officials into random mouthpieces speaking in the name of the Israeli occupation."
An op-ed written for the Post on Thursday by Jared Kushner, US Special Envoy to the Middle East Jason Greenblatt, and US Ambassador to Israel David Friedman noted that a recent visit made "painfully clear" that Hamas is causing Gaza civilians unnecessary suffering.
The three promised Gaza "economic success" and "a thriving regional economy" - but only if they let the US help. In turn, Gaza's economic recovery would bring it stability.
They also blamed the international community for talking instead of suggesting "realistic solutions" and writing "meaningful" checks. The US, they said, "has invested more money in helping the Palestinian people than has any other country in the world."
The three pointed out that billions of dollars of international aid invested to Gaza have not lowered the poverty level in the area, which currently stands at 53%, or provided jobs in an area where 49% are unemployed. In their opinion, nothing will change for the people in Gaza until Hamas recognizes Israel and acts in accordance with previous agreements. As soon as Hamas demonstrates - with actions - peaceful intentions.
"The cycle is clear," they wrote on The Washington Post. "Rockets, mortars, terror tunnels, kite bombs and other weapons of aggression lead only to stricter constraints on the people of Gaza. Hamas's acts of aggression have only produced misery for the people of Gaza."
"The true victims of this terrible situation are the many Palestinians who are not rioting but whose futures are dimmed by Hamas's radical approach. It is evident that the leaders in this region are tired of being on this hopeless treadmill and are hungry for real change."