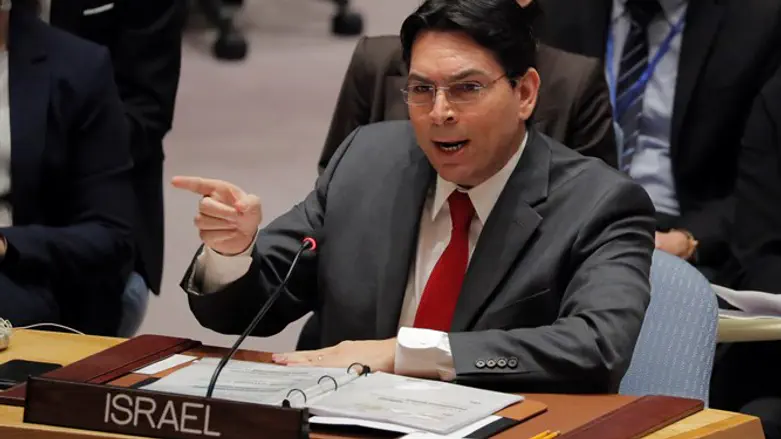 Danny Danon
Reuters
Israel's Ambassador to the United Nations Danny Danon on Thursday reacted harshly to accusations by the Palestinian Authority (PA) representative to the UN, Riyad Mansour, who claimed that Israel had initiated a "morally depraved response" to the ongoing Hamas attacks from Gaza.
Mansour had also written to the Security Council that Israel's recent limiting of goods moving through the Kerem Shalom crossing amounted to a "collective punishment of the Palestinian civilian population."
"It is morally reprehensible to make these accusations against Israel while the Hamas terrorists continue their arson attacks on Israel, burning thousands of acres of agricultural fields and wildlife, and threatening the schools and homes of our south," said Ambassador Danon.
"The residents of Gaza must understand that the responsibility for their plight lies exclusively with those who choose to launch bombs at Israeli kindergartens," he continued.
In his letter to the members of the Security Council, Mansour further accused the Israeli government of "sealing off the Kerem Shalom crossing, Gaza's only commercial crossing for goods in and out of Gaza, cutting off vital supplies and banning all exports from Gaza, putting thousands of jobs at risk, causing prices of essential materials to surge, and compounding the devastating humanitarian situation already rampant in the Gaza Strip where 49% of Palestinians are unemployed."
In response, Danon said, "Gaza's residents would have full access to all humanitarian supplies that Israel provides, if Hamas did not divert these resources to building terror tunnels or launching rockets against our civilian population."
Hamas earlier this week warned Israel that its decision to reduce the transfer of fuel and gas through the Kerem Shalom crossing would have "grave consequences".
Last week, Prime Minister Binyamin Netanyahu and Defense Minister Avigdor Liberman announced that the Kerem Shalom crossing would be temporarily closed with the exception of humanitarian cases. The decision was made in response to the continued arson terror perpetrated by Gazan terrorists using incendiary kites and balloons sent from Gaza into Israeli territory, as well as other attempts at terror attacks.
Following that decision, Hamas decided to stop fruit imports from Israel from entering Gaza, a move intended to "punish" Israel but which essentially harms Gazans.