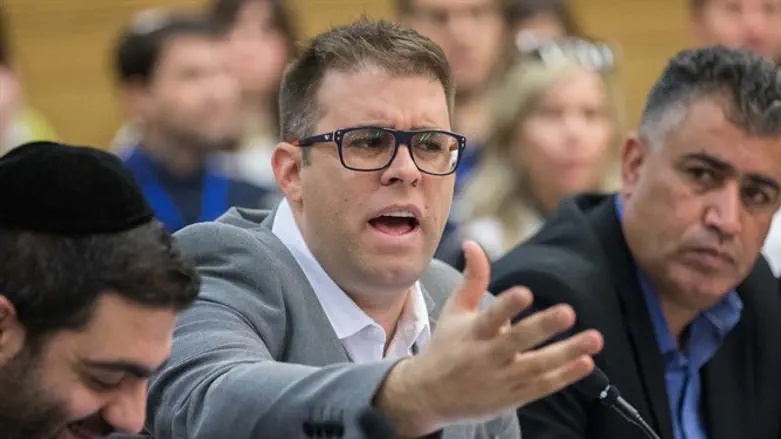 'Hazanut'
Flash 90
The trial of MK Oren Hazan (Likud), accused of assaulting a public servant and improper behavior in a public place, opened at the Petah Tikva Magistrate's Court this afternoon, for events attributed to Hazan before his election to the Knesset in 2015.
According to the indictment, in October 2014, after Hazan learned of a foreclosure imposed by the Ariel municipality on his mother's bank account for a debt, he came to the municipality and demanded in various offices to understand who ordered the foreclosure.
Upon determining that the Municipality Director General had ordered the foreclosure, Hazan waited for his arrival, then shouted at him and cursed him. Later, Hazan got up close to the Director and forcefully pushed him until he hit the railing. The Director entered the conference room and Hazan entered immediately after him, closed the door of the room and said, "No one's leaving here." In the conference room, Hazan continued to shout and insult the Director until he was removed.
Hazan then burst into the Mayor's office without receiving permission, and began shouting and cursing the Mayor. The mayor ordered Hazan to leave his office, but he refused, threatening to "take care" of the Mayor and make sure that the latter did not "sit in the chair anymore".
At the beginning of the hearing, Hazan asked to postpone the trial because the issue of the Knesset Member's legal representation had not yet been settled.
"For the past eight months, I've had a difficult time," Hazan told the judge, "I and my lawyers have been for four years in this story and we don't agree on everything. I'm used to being beaten up at every opportunity, sometimes just to get a headline. This is the only place I can be sure I'll be treated fairly," he said.
The judge said in response that "you're treated like any defendant. As with every defendant I would ask after such a period of time that the hearing will proceed. If you want to change representation, you will have to apply to the court."