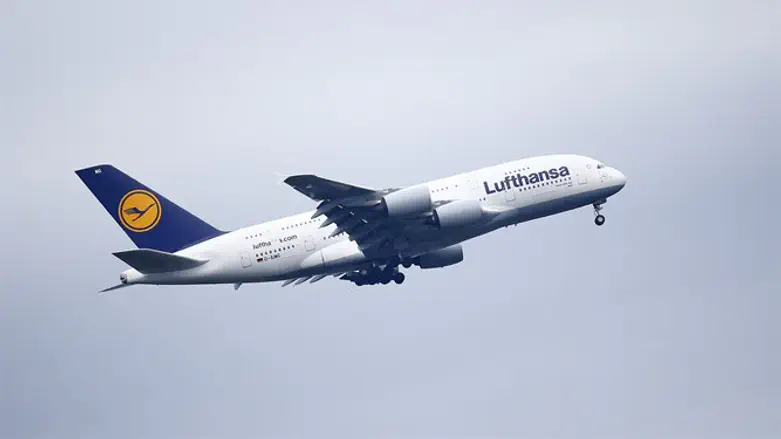 Lufthansa
Reuters
The German airline Lufthansa, which is celebrating 50 years of operations in Israel, is expanding its activity to another destination in Israel - Eilat (Ovdah). The company will operate four weekly flights on A320 aircraft to Ovdah, with two weekly flights from Frankfurt on Sundays and Mondays (from October 28, 2018) and two weekly flights from Munich on Tuesdays and Saturdays (beginning November 8, 2018).
The opening of the new routes from Germany to Eilat is the result of cooperation between the Ministry of Tourism and Lufthansa, in which the airline receives a grant of €60 per passenger landing in Eilat. The grant is intended for marketing the new routes. Lufthansa's new flights will increase the number of tourists from Germany. In 2017, incoming tourism from Germany to Israel increased by 33% as compared to 2016. In 2017, 220,000 tourists arrived from Germany, compared with about 165,000 in 2016 and 160,000 in 2015. 40% of German tourists visiting Israel are return visitors. About 85% of German tourists visit Israel as independent travelers (FITs), with the average length of stay 7 nights.
The significant increase in tourism from Germany to Israel, with approximately 90 direct flights, is the result of a variety of marketing and advertising initiatives by the Israel Ministry of Tourism. These initiatives include, inter alia, the promotion of the Two Cities. One Break campaign; incentives for new direct flights; intensive activities with German tour operators to increase sales, and many public relations activities. The launch of new routes into Eilat represents a vote of confidence by Lufthansa, the largest airline group in Europe, in the Israeli tourism product and in Eilat. The opening of the new routes was also promoted at the ITB tourism fair held in Berlin a few months ago - where Tourism Ministry Director General Amir Halevi and Director of the IGTO in Berlin Uri Sharon met with senior officials in Lufthansa and presented them with the economic potential of opening new routes into Eilat.
Lufthansa Group Director in Israel Ofer Kish, notes that Lufthansa sees the Israeli market as a dynamic and growing market, both in terms of business tourism and leisure tourism. "Lufthansa Airlines, which includes Lufthansa, Swiss, Austrian Airlines and Brussels Airlines, is the largest foreign aviation group in Israel. This year, we celebrate the 50th anniversary of the company's operations in Israel, which began in November 1968. The announcement of the opening of a new destination to Eilat is a symbol of the company's continued investment in the Israeli market and the Israeli passengers, and this is also an opportunity to thank the Israel Ministry of Tourism for its fruitful cooperation. We have no doubt that, alongside the geographical location of Eilat and its environs which offer a wonderful and varied tourist base for those who love the sea, the desert and the many attractions in the region, scheduled flights from Europe will greatly contribute to incoming tourism."
Kish continued: "Furthermore, we offer tourists maximum flexibility in terms of entry and departure destinations, and for those interested it will be possible to combine arrival in Eilat with departure from Tel Aviv. The scheduled flights will also offer residents of the South with convenient and frequent flight schedules to Frankfurt and Munich as a tourist destination and as a convenient link to more than 200 destinations in 74 countries around the world"
Ofer Kish added: "These flights join the announcement last March by Edelweiss, from the Lufthansa Group, about the launch of a scheduled route from Zurich, Switzerland, to Eilat (Ovdah) starting on October 28, 2018. Therefore, the group will operate five weekly flights to Eilat this winter. It is important to note that the airports of Frankfurt, Munich and Zurich are major hubs in Europe and are expected to bring to Israel tourists from many other countries on the continent. "