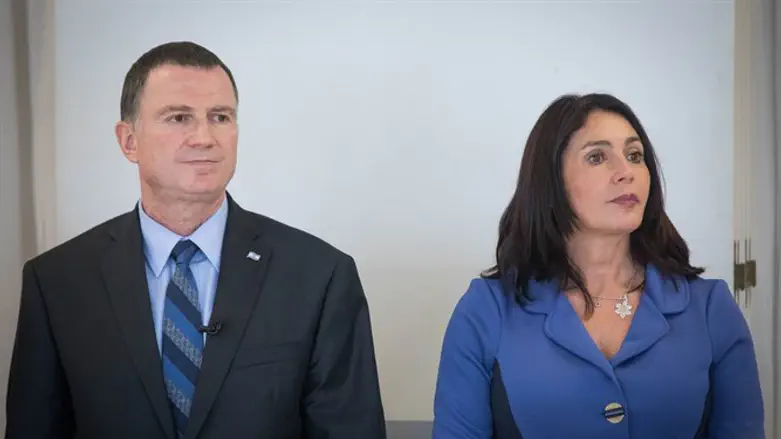 Yuli Edelstein and Miri Regev
Yonatan Sindel/Flash90
Culture Minister Miri Regev alleged that a bill she promoted that would redistribute funding for the film industry was scuttled by Knesset Speaker Yuli Edelstein as payback for slighting him at Israel's Independence Day ceremony.
The Regev-sponsored bill, titled the 'Film Law', would have ensured that 15% of funding allocated to filmmakers would go to productions that were not sponsored by Israel's two leading film funds. Due to the small market for Hebrew-language productions, grants from Israel's two major film funds and from the Culture Ministry are critical for aspiring filmmakers.
The proposed legislation was hotly proposed by Israel's film industry, who decried government intervention in the film sector. Opposition lawmakers filed hundreds of objections to the bill, leading to hours of Knesset debate. After the debate stretched into the afternoon, Knesset Speaker Yuli Edelstein refused to extend the time budgeted to the debate in order to hold a vote, ensuring that the Film Law will be voted on until the Knesset's winter session.
Edelstein's decision not to hold a vote on the bill enraged Regev, who alleged that the move was payback for a spat between her and the Knesset Speaker regarding Prime Minister Netanyahu's speech at Israel's official Independence Day ceremony at Mount Herzl.
"Yuli Edelstein's conduct stems from a position that is personal unprofessional position, which harms the conduct that is required for the Knesset," said Regev. Edelstein denied the allegations, tweeting that "my considerations were strictly practical".
Regev and Edelstein had publically bickered in the weeks leading up to Israel's 70th-anniversary ceremony at Mount Herzl after Regev insisted that Netanyahu speak at the event. The demand aroused Edelstein's ire, who was upset at the breach of tradition and said that the Knesset Speaker should be the one giving the keynote speech in order to represent the unity of the people embodied by their elected government.
After Edelstein threatened to boycott the official torch lighting ceremony, an agreement was hatched in which Netanyahu would give a short speech before he lit a torch. However, Netanyahu's speech lasted 14 minutes, well past the five minutes he was allotted and infuriating Edelstein, who felt that the prime minister's extended address overshadowed his own.
During a blistering interview with Channel 10 shortly after, Edelstein ripped Regev and warned that her conduct would hurt her in the future, adding that he did not fear a full-on political battle with the Culture Minister.
"I told her that I'm sick of her nonsense and if she continues down this path, it would be a serious political mistake," said the Knesset Speaker.