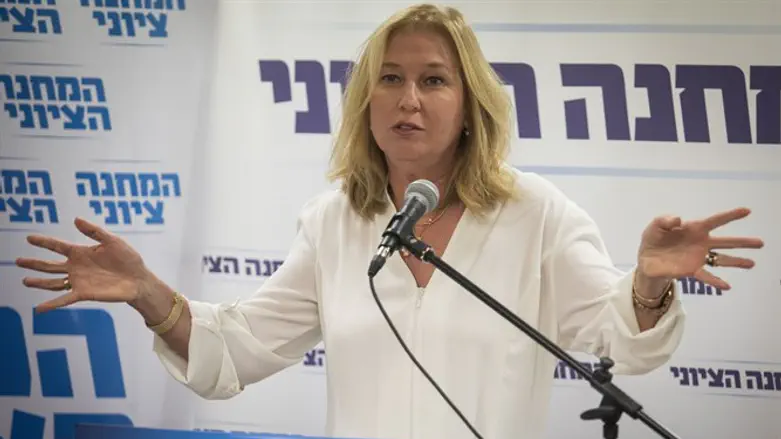 Tzipi Livni
Hadas Parush/Flash 90
MK Tzipi Livni (Zionist Union) on Sunday criticized the Israeli government's conduct vis-à-vis the Hamas terrorist organization in Gaza.
"We have to begin to combine military blows when necessary with diplomatic activity against Hamas, not agreements with Hamas, but mobilization of the world against it," Livni said in an interview on Kol Barama radio.
"This government is short-sighted and has no strategy for Gaza. We have become dependent on Hamas. When it wants to, it increases the flames and when it wants to, it lowers them. Israel does not know what it wants to do there," she continued.
"I'm not looking for a partner on the Hamas side and I'm opposed to any negotiations with it. We have to recruit the world to pressure Hamas just as we pressure Iran," Livni said.
Her comments came after Gaza terrorists fired over 200 rockets toward southern Israel over the weekend.
Hamas and Islamic Jihad claimed on Saturday night that they had reached a ceasefire agreement with Israel.
Jewish Home chairman Naftali Bennett later responded to reports of the ceasefire, warning that "the formula whereby after two months of fires and hundreds of rockets on residents of the Gaza Belt, Hamas dictates the ceasefire to us, is a grave mistake."
"I made it clear two months ago: Restraint creates escalation. Those who refrain to respond to the violation of our sovereignty and refrain from fundamental actions impose on us an ongoing war of attrition. The IDF must be ordered to act with force, sophistication and thoroughness," added Bennett.
Defense Minister Avigdor Liberman later said, "There is no intention to contain rockets or kites and anything. I hope that Hamas will draw conclusions, and if they do not, they will have to pay a heavy price."