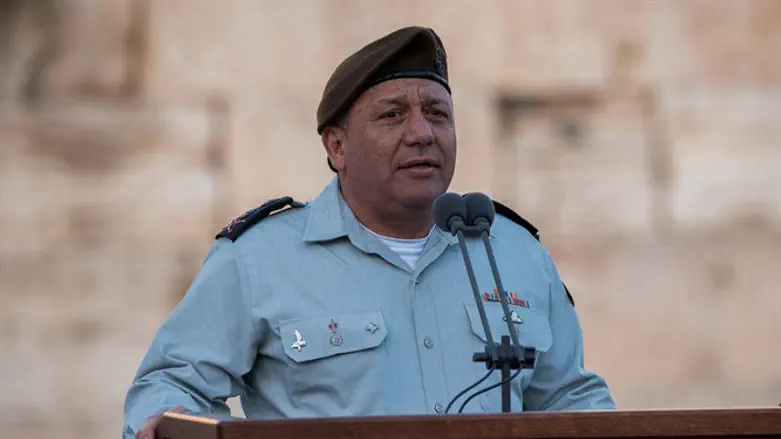 IDF Chief of Staff Gadi Eizenkot
TPS
IDF Chief of Staff and Education Minister Naftali Bennett reportedly faced off during a cabinet meeting regarding the escalating security situation in southern Israel after Bennett demanded that the IDF bomb Gazans who launch flaming kites into Israel.
According to Channel 2, Bennett asked Eizenkot why "Why not shoot anyone who fires an aerial weapon at our towns and against the terror cells? Why shoot next to them and not at them? There is nothing legally preventing this- were are talking about terrorists in every way."
Eizenkot replied that "I do not think that shooting boys and children who are the ones who launch the balloons and the kites is correct."
Bennett then asked Eizenkot "what if we are talking about an adult who is identified as an adult?"
"Are you proposing to drop a bomb from an airplane on a squadron of kite and balloon launchers?" asked Eizenkot. After Bennett answered in the affirmative, Eizenkot said that "this contradicts my operational and moral position."
Energy Minister Yuval Steinitz also complained that the media was twisting the coverage of the incendiary kites to make it appear as if Israel was refraining from responding. "They are saying that Israel is burning, Israel is burning. Israel is not burning," Steinitz contended. Netanyahu agreed. "The media is intensifying the matter presenting things in a distorted way," he said.
For over three months, Hamas has launched burning kites and balloons into Israel. Notoriously hard to spot and extremely potent during Israel's dry summer months, the kites have burned up large portions of the south and caused hundreds of millions in damage.
The IDF has struggled to find an appropriate response to the kites whose small size make them impervious to radar. When the phenomenon first began, the IDF attempted to down the kites using amateur drone pilots before moving on to a strategy of preemptive drone strikes. Neither doctrine has found success and the military is under increasing pressure to respond forcefully to what has been dubbed 'kite terror'.
Naftali Bennett has been taking an increasingly hawkish line towards Gaza and has been urging Israel to escalate it's response towards Hamas. On Saturday night, following reports of a ceasefire between Israel and the Gaza terrorist organizations, Bennett alleged that the move was a "grave mistake" and called on the IDF to strengthen its response.
"Restraint creates escalation," said Bennett. "Those who refrain to respond to the violation of our sovereignty and refrain from fundamental actions impose on us an ongoing war of attrition. The IDF must be ordered to act with force, sophistication and thoroughness."