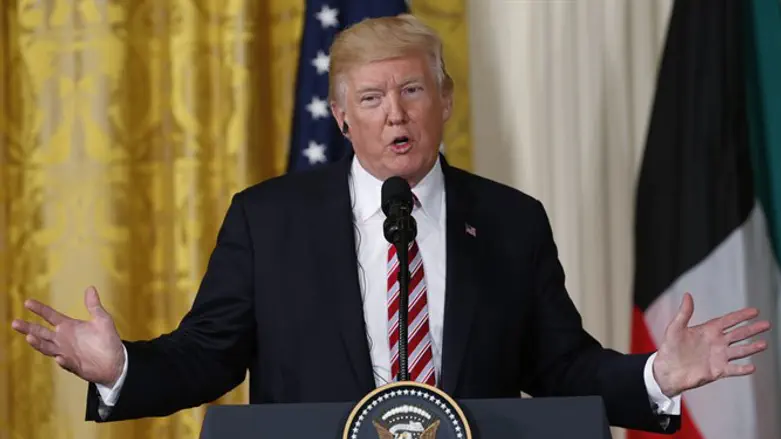 Donald Trump
Reuters
Nine Democratic members of Congress sent a letter to US President Donald Trump demanding he publish whether aid to the Palestinian Authority (PA) has been reduced or eliminated without first speaking to Congress.
Earlier this year, the US announced that it would re-examine aid to the PA in light of the PA's continued support of terror and refusal to negotiate with Israel.
The US also froze $65 million intended for UNRWA, but did not cease US support for PA Arabs, which is estimated to be much higher.
In their letter to Trump, the signatories, all of whom are members of the House of Representatives' Foreign Affairs Committee's subcommittee on the Middle East, claimed that "all U.S. assistance, including lifesaving humanitarian aid, has been frozen since January 2018."
"We are deeply concerned that there seems to be no information available to Members of Congress as to the nature, scope, or duration of this assistance review.
"We support the need for oversight of our assistance programs.... However, it is unnecessary to withhold funding while conducting this review."
They also claimed that there is a "real concern" that a drastic cut in funding to the PA will worsen the humanitarian crisis in Gaza, and that the US "cannot" refuse to aid the PA. Any aid not transferred to the PA since January, they insisted, must be transferred now. This will "save innocent lives" and "prevent Hamas from taking advantage of the situation," they claimed.
"We have heard from many of our non-governmental organization implementing partners...who will be forced to shut down in the coming weeks if funding is not released," they wrote.
"The Committee has previously requested information in writing...about the West Bank and Gaza assistance review, and has not received detailed information in response. Therefore, we request an update as to the current status of the review...and a timeline for the conclusion of the review. We also urge the immediate release of US bilateral assistance to the West Bank and Gaza."