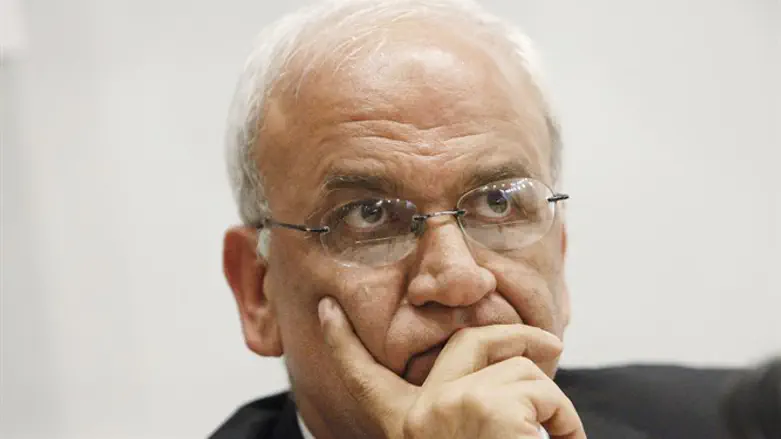 Saeb Erekat
Miriam Alster/Flash 90
Saeb Erekat, the Secretary-General of the Palestine Liberation Organization (PLO) and former chief Palestinian Authority negotiator, on Wednesday welcomed the Irish Senate's approval of legislation calling for a boycott of products manufactured in Judea and Samaria.
"This courageous step builds on the historic ties between Ireland and Palestine, as well as it shows the way forward for the rest of the European Union," said Erekat in a statement quoted by the official PA news agency Wafa.
"Today the Irish Seanad has sent a clear message to the international community and particularly to the rest of the European Union: the mere talking about the two-state solution is not enough without taking concrete measures," he continued.
Those trading with Israeli "settlements", argued Erekat, are complicit in the systematic denial of the Palestinian right to self-determination.
"If some countries within the EU are willing to continue encouraging Israel's culture of impunity, it is time for individual member-states to take legitimate actions like the one approved by the Seanad," said Erekat, according to Wafa.
"I would like to make use of this occasion to thank everyone that was involved in the approval of this law, from political parties to Palestinian and Irish civil society, and particularly to Senator Frances Black for her courage to introduce this motion that advances the cause of justice in Palestine," concluded the statement.
The Irish Senate had earlier approved by a majority of 25-20 a bill calling for the boycott of Israeli products originating beyond the "Green Line".
The discussion on the bill at the Irish senate was postponed in January after Ireland's Ambassador to Israel, Alison Kelly, was summoned for a meeting at the Foreign Ministry to clarify the legislative initiative.
While it does not specify Judea and Samaria, the Israeli government understood it as singling out the Jewish state. Prime Minister Binyamin Netanyahu has condemned the initiative, saying that the goal of the proposed legislation "is to support the BDS movement and harm the State of Israel."
The Irish Ambassador to Israel was again summoned for a reprimand following Wednesday's approval of the bill.
Israel's Foreign Ministry issued a response to the approval, saying that "the Irish Senate has given its hand to an aggressive, dangerous and radical populist anti-Israel boycott initiative that undermines prospects for a dialogue between Israel and the Palestinians."
"The absurdity in the course of the Irish Senate is that the boycott will harm the livelihood of many Palestinians working in the Israeli industrial zones affected by the boycott, and Israel will consider its steps in accordance with the developments in this legislation," the Foreign Ministry said.