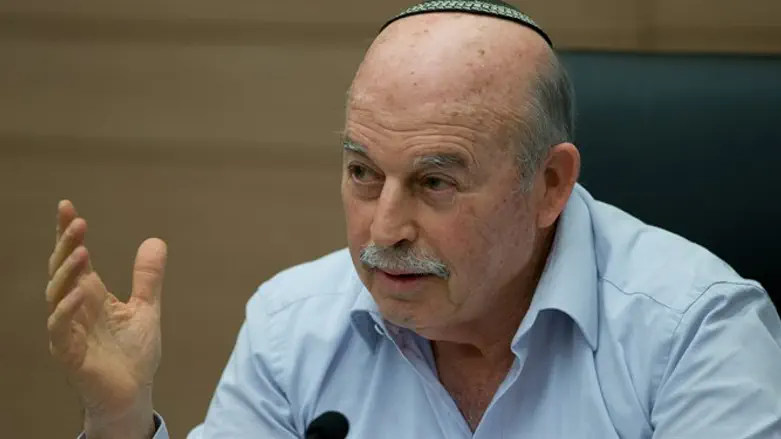 Nissan Slomiansky
Yonatan Sindel/Flash90
The Jewish Home party has threatened to block passage of a long-awaited "nationality law", defining in law Israel as the nation-state of the Jewish people, if the Likud abandons a clause in the law strengthening the role of traditional Jewish law in the State of Israel's legal code.
The Nationality Law would establish the status of the State of Israel as the nation-state of the Jewish people and the right of the Jewish people to self-determination in its homeland as a unique right for the Jewish people. It would also anchor the symbols of the state, Jerusalem as the capital of Israel, the Jewish calendar as the country's official calendar, and Hebrew as the official language.
The bill also included provision giving special consideration to traditional Jewish law in Israel's legal code – a key demand of the Jewish Home.
Recently, however, Likud MKs have signaled their willingness to abandon the clause, Jewish Home lawmakers say.
If the clause is dropped, senior Jewish Home MKs said Monday, the party would block passage of the new version of the bill.
"It is unthinkable that there would be no mention of 'Mishpat Haivri' [traditional Jewish law] in the Nationality Law," said Constitution, Law, and Justice Committee Chairman Nissan Slomiansky (Jewish Home).
"Likud leaders promised to include this in the Nationality Law. Has the Likud really decided to abandon Mishpat Haivri?"
Earlier on Monday, it was reported that Tourism Minister Yariv Levin (Likud) planned to advance the Nationality Law despite opposition from Attorney General Avichai Mandelblit.
Mandelblit opposes the section of the bill which would allow Jewish communal settlements to refuse to allow non-Jews to live within their boundaries, the report said.
The above section is the only practical section of the bill, which otherwise is made up mostly of affirmations and statements defining Israel's Jewish character.
Earlier this month, Israeli Prime Minister Binyamin Netanyahu ordered the coalition to pass the Nationality Law before the end of the summer Knesset session.
The bill is expected to pass its second and third votes in the Knesset next week.