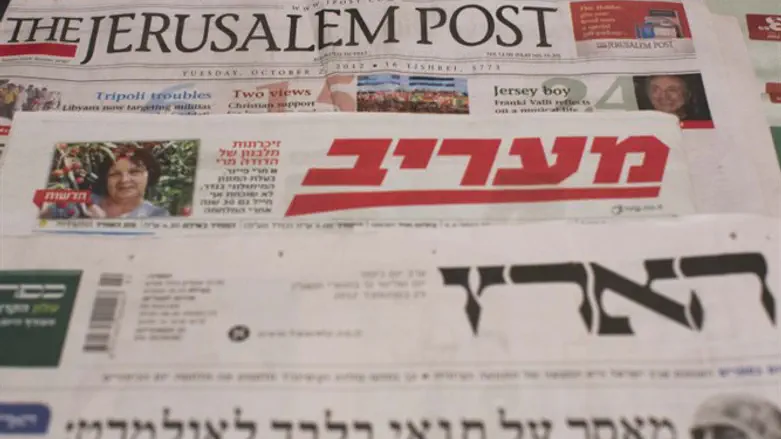 Israeli newspapers: Jerusalem post, Maariv, Haaretz
Yonatan Sindel/Flash90
The left-leaning Haaretz newspaper called on Israelis to report alleged instances of religious coercion in the IDF and the public sphere as the fight over the place of religion in the Jewish state escalates.
Over the past year, numerous stories have surfaced in the media concerning alleged cases of increasing religious coercion in Israel. Led by the radical anti-religious Secular Forum, the stories have targeted courses in Jewish history and tradition in the school system, the influence of the IDF's military rabbinate, and popular Lag Baomer events given by Chabad at malls all across Israel.
Many of the stories have focused on the IDF, as the number of religious soldiers and officers continues to climb. Last week, Haaretz published a story last week contending that religious IDF officers were preventing secular families from Shabbat visits at training bases. A week before that, Ynet ran a story highlighting the plight of a military cook who was punished after preparing food on Shabbat, which is contrary to regulations.
On Sunday, Haaretz seemingly took the fight a step further and called on the public to report any instances of "religionization ", or Hadata in Hebrew. A notice published in the daily edition implored readers "to report on the manifestations of "religionization" in the IDF or in the public sphere, turn to the hotline of the Secular Forum".
The notice was slammed by Deputy Defense Minister Eli Ben Dahan, who told the newspaper that fighting the Jewish tradition "will not help you".
"For 2,000 years we were in exile and kept our identity and our Judaism even in the times that they persecuted us - and now, now that we have returned to our land, there are those who try to minimize any Jewish trait in the Israel Defense Forces and in every public place," tweeted Ben Dahan.
"It will not help you - we are not ashamed of our Judaism and we will never be ashamed."