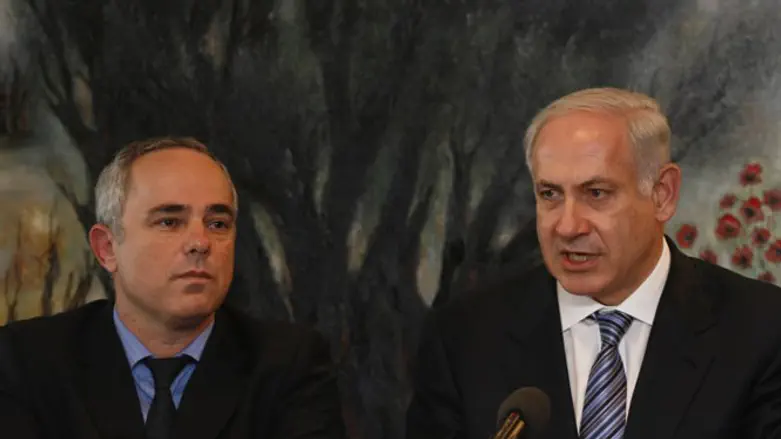 They met anyway. Netanyahu and Steinitz
Flash 90
The ministerial committee for holy sites convened Sunday morning, despite the resignation of Minister of Religious Services David Azulai (Shas) from the committee, a source in the Prime Minister's Office confirmed to Arutz Sheva.

Another source in the office noted that Prime Minister Netanyahu did not accept Azulai's resignation and decided to convene the committee anyway with incomplete attendance. However, the committee apparently will not vote on the approval of the expansion work on the "Ezrat Yisrael" mixed-gender section in the southern compound of the Western Wall.
The committee is currently composed, with the exception of Minister Azulai who resigned, of Prime Minister Netanyahu and Energy Minister Yuval Steinitz. Netanyahu and Steinitz replaced Culture Minister Miri Regev and Justice Minister Ayelet Shaked, who asked to resign from the committee due to their unwillingness to support the construction in the southern compound.
In his letter of resignation, Azulai explained that he had made the decision "in view of the statements made by the Minister of Justice and the Minister of Culture that they cannot support the Ministerial Committee in a decision that will allow the establishment of a new area for mixed prayer of men and women not in accordance with Jewish law and the Chief Rabbinate of Israel, and in view of your decision to transfer the authority of the minister members of the committee to a new and specific composition in order to obtain a majority for the establishment of a new plaza designed to convene a mix of men and women not according to Jewish law and the Chief Rabbinate of Israel at the Western Wall.
As such, he said, "I concluded that a decision has already been made before the committee has convened, and before the relevant considerations have been considered, and this is nothing but paying lip service. I am not willing to lie in my soul and be a partner to such a move," Azulai said.

The pressure on Minister Azulai to resign from the committee increased over the past weekend, after Jerusalem's rabbi, Rabbi Shlomo Moshe Amar, sent him a letter asking him to resign from his post to delay the approval of the renovations in the southern compound.