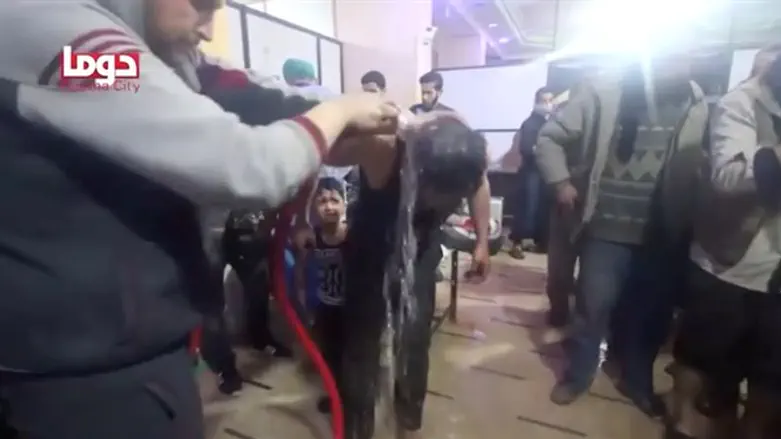 Aftermath of attack in Douma
Reuters
The world's chemical arms watchdog, the Organization for the Prohibition of Chemical Weapons (OPCW), said Friday it had found no evidence of nerve gas after an attack on the Syrian town of Douma, AFP reported.
The organization did say, however, that chlorine may have been used.
A team of OPCW inspectors took more than 100 samples from some seven sites in Douma when they gained access to the town several weeks after the April 7 attack.
"The results show that no organophosphorous nerve agents or their degradation products were detected," the OPCW said in an interim report late Friday.
But it added that the fact-finding mission also found "along with explosive residues, various chlorinated organic chemicals."
It is understood that could mean some samples contained what may be potential markers of exposure to an active source of chlorine, not found naturally in the environment.
"Work by the team to establish the significance of these results is ongoing," the OPCW added, according to AFP.
Medics and rescuers say about 40 people were killed in the attack, many of them in a housing block hit when a cylinder landed on its roof.
The fact-finding team was still working on "the location of the cylinder, (and) its provenance" which will require a "comprehensive analysis" by experts, the OPCW said.
The team's mission to Douma was launched amid international outrage over images of adults and children appearing to be suffering from the effects of a toxic weapon attack.
The gruesome footage from the apparent attack horrified the world and prompted unprecedented Western strikes on Syrian military installations.
There had been claims that residents were victims of sarin gas, but that has been ruled out by Friday's interim report.
It remains unclear who is responsible for the Douma attack, which Western countries have blamed on the Syrian regime of Bashar Al-Assad.
The Syrian regime repeatedly denies having any connection to chemical weapons attacks in Syria.
Russia, which is a close ally of the Syrian regime, accused Britain of staging the Douma attack.
Moscow also vetoed a U.S.-drafted Security Council resolution that would have set up an investigation into chemical weapons use in Syria following the Douma attack.
(Arutz Sheva's North American desk is keeping you updated until the start of Shabbat in New York. The time posted automatically on all Arutz Sheva articles, however, is Israeli time.)