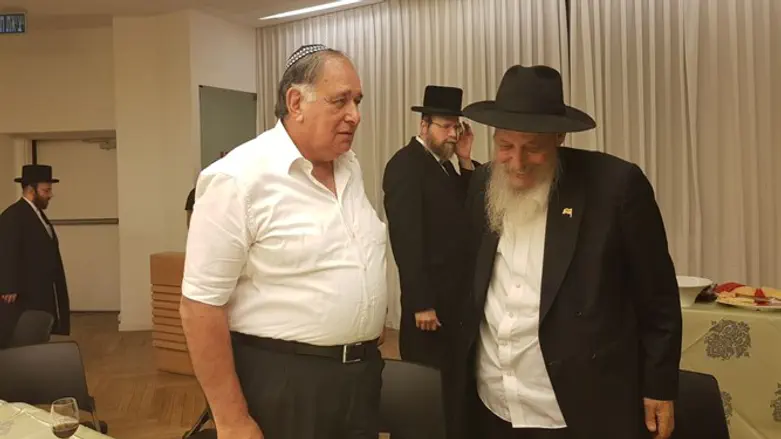 Rabbi Boaz Keli (R) with Haifa Mayor Yona Yahav
Chabad-on-line
For the past eight years, Chabad emissary to the city of Haifa Rabbi Boaz Keli has faced cancer, and his condition worsened in the past two years. Kikar Shabbat reports he was hospitalized two weeks ago in very critical condition, and this morning the doctors were saddened to determine his death.
Keli was Deputy Director of Chabad educational institutions in Haifa and Kiryat Shmuel, Chief of Staff of the Sheva Mitzvot B'nai Noach campaign, activist of the Chabad community in Kiryat Shmuel, and director of the tourist synagogue in Haifa's German Colony.
Haifa Mayor Yona Yahav eulogized Keli and wrote: "My beloved friend Rabbi Boaz Keli passed away. A man of action, a faithful emissary of the Rebbe, committed to spreading Judaism, light, and love to every person.
"Rabbi Boaz z"l promoted the issue of peace among all nations and fulfillment of the Seven Noachide Laws. He also was able to print the book Tanya in Arabic and distribute it among the entire city's population. I'm sorry for you, brother, you were very beloved to me, and I'll miss you a lot more."
At the end of his speech, Yahav added: "Boaz, you promised us all to bring redemption to the world .. And the mission has not yet been completed! May your memory be for a blessing!"
His funeral will depart at 2:00 pm from the family home on 28 Netziv Street in Kiryat Shmuel on the way to the Chabad Kollel, where they will take buses to the city's cemetery.