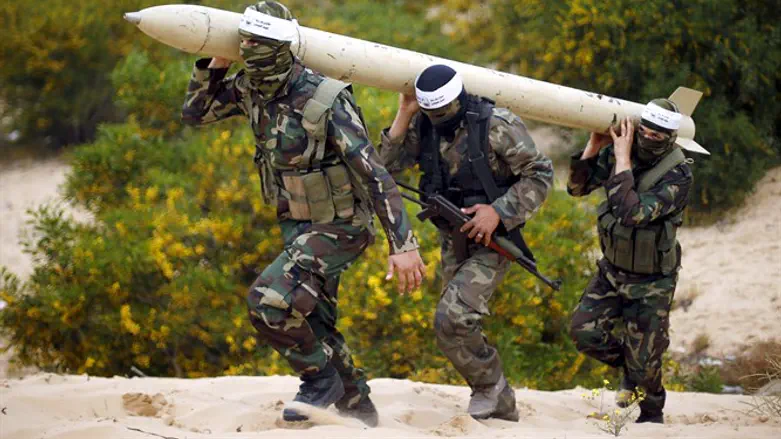 Hamas
Reuters
The London-based Al-Hayat newspaper reported on Wednesday night that Germany has been involved in indirect negotiations between Israel and Hamas over a prisoner exchange deal.
According to the report, four Israeli prisoners will be released in exchange for Palestinian Arab prisoners. Western sources told the newspaper that Germany has been holding meetings and contacts with Hamas for three years and is playing a similar role of mediator as it did during the negotiations for the release of abducted soldier Gilad Shalit.
The sources did not provide the newspaper with details on the progress of the negotiations, but noted that Israel and Egypt trust the German mediation and that Egypt is following the process.
It was also reported that Egypt would play a role in executing the deal, should it take place.
Hamas has been holding the bodies of IDF soldiers Hadar Goldin and Oron Shaul since the 2014 Operation Protective Edge.
In addition, two Israeli civilians who went missing in Gaza - Avera Mengistu and Hisham al-Sayed - are believed to be held by Hamas as well.
The Red Cross has in the past urged Hamas to comply with its obligations under international humanitarian law and provide an update on the condition of Israeli nationals who went missing in Gaza.
Hamas has refused to comply with the request, and has also refused to allow the Red Cross to visit the missing Israelis.
Recent reports indicated that Hamas has told Egypt it is prepared to make a "comprehensive deal" with Israel that will include returning the Israelis it is holding in Gaza in exchange for the establishment of an airport and seaport.
Hamas leader Ismail Haniyeh recently said the group was ready to negotiate with Israel on an exchange deal.
Later, however, the Israel Hayom newspaper reported that a dispute has broken out within the higher echelons of Hamas that is preventing the terror organization from reaching an exchange deal.