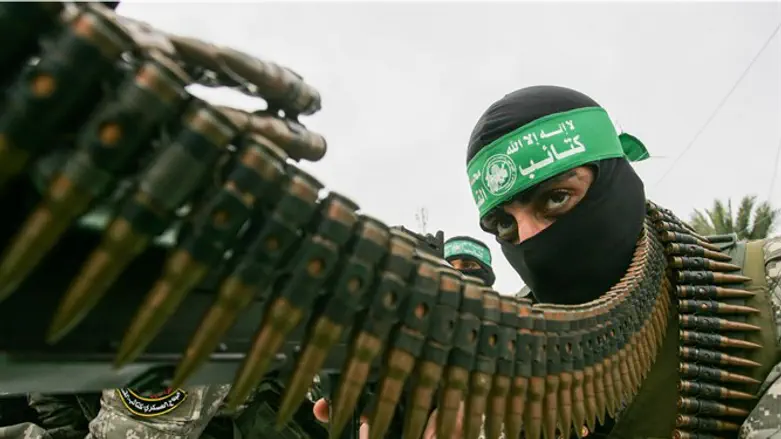 Hamas terrorists
Flash 90
Ibrahim al-Madhoun, a journalist and political analyst whose articles frequently appear on the Hamas website, is claiming that Israel is working seriously to formulate a deal to return the bodies of soldiers and civilians being held by Hamas.
"This is only the beginning and not the end," he claimed, adding that the cards held by Hamas will have a strong influence on the Israeli public, as they will allow for another exchange deal.
Madhoun noted that "it is still necessary to take advantage of the present opportunity and the right timing to reach another exchange deal," while stressing that Hamas "has a plan for action that will be implemented without rushing in order to fulfill the will of the Palestinian people."
He added that contacts had been held with representatives from Qatar, Egypt, Turkey, Germany and the United Nations in an attempt to bring the parties closer together and to reach agreements on lifting the blockade on Gaza and about the exchange deal.
"I believe that Hamas will not rule out any deal in which freedom will be achieved for Gaza, the siege will be lifted through the establishment of a seaport and an airport, prisoner exchanges and arms control during a period of calm without giving up any right of the Palestinian people," Madhoun wrote.
Hamas has been holding the bodies of IDF soldiers Hadar Goldin and Oron Shaul since the 2014 Operation Protective Edge.
In addition, two Israeli civilians who went missing in Gaza - Avera Mengistu and Hisham al-Sayed - are believed to be held by Hamas as well.
The Red Cross has in the past urged Hamas to comply with its obligations under international humanitarian law and provide an update on the condition of Israeli nationals who went missing in Gaza.
Hamas has refused to comply with the request, and has also refused to allow the Red Cross to visit the missing Israelis.
Madhoun's remarks follow recent reports claiming that Hamas has told Egypt it is prepared to make a "comprehensive deal" with Israel that will include returning the Israelis it is holding in Gaza in exchange for the establishment of an airport and seaport.
Hamas leader Ismail Haniyeh recently said the group was ready to negotiate with Israel on an exchange deal.
Later, however, the Israel Hayom newspaper reported that a dispute has broken out within the higher echelons of Hamas that is preventing the terror organization from reaching an exchange deal.