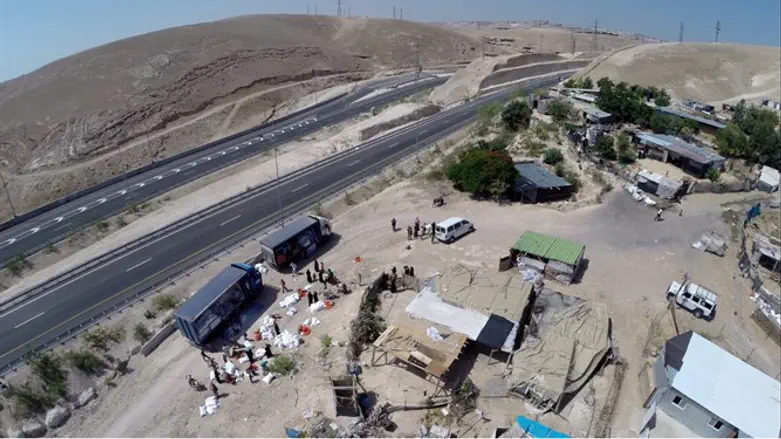 Khan al Akhmar
Regavim
Israeli law enforcement officials and security personnel are preparing to demolish an illegal Bedouin encampment east of Jerusalem, following years of delays and legal battles.
Known as Khan al-Ahmar, the encampment of some 170-180 Palestinian Authority Bedouin was established in the 1990s with no authorization or building permits. The outpost was built within the town limits of an existing Israeli community – Kfar Adumim – prompting Israeli law enforcement authorities to declare Khan al-Ahmar illegal, and call for its demolition.
After years of appeals to the Israeli judicial system, the Supreme Court upheld lower court decisions ruling that the outpost was indeed illegal and must be removed.
Land theft watchdog organizations say that despite the ruling, the government has been dragging its feet with regard to the demolition, failing to meeting deadlines set by the court.
On Tuesday, however, it appeared that the government was preparing to remove the illegal Bedouin encampment.
According to a report by AFP, residents and activists opposed to the demolition say that Israeli Defense Ministry officials delivered demolition notices to Khan al-Ahmar on Tuesday.
In addition, residents claim that IDF equipment needed for the demolition, including at least one bulldozer, was positioned just outside the town in preparation for the evacuation.
"Today they are proceeding with infrastructure work to facilitate the demolition and forcible transfer of residents," said Amit Gilutz, spokesman for the far-left B'Tselem organization.
Earlier on Tuesday, the United Nations High Commissioner for Human Rights demanded Israel legalize the town, claiming that Israel lacked authority to enforce construction laws in Judea and Samaria.
"We call on the Israeli authorities not to proceed with the demolition, to respect the rights of residents to remain on their land and have their status regularized," said UNHCHR spokeswoman Liz Throssell said.
The UNHCHR claimed that demolishing the illegal town would be in violation of international law.