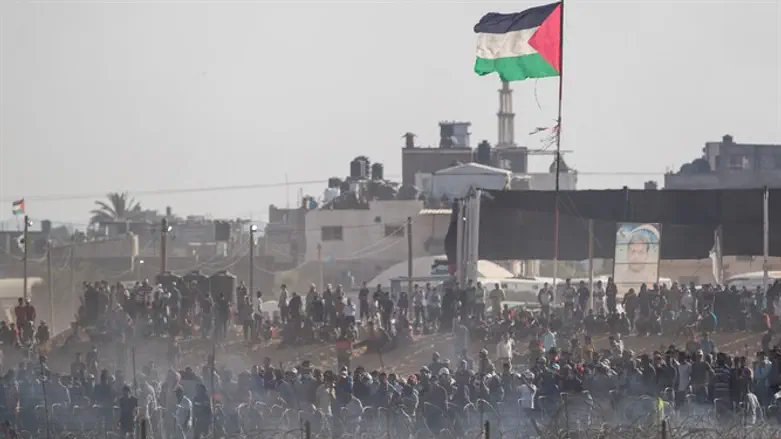 Riot on the Gaza border
Yonatan Sindel/Flash 90
Thousands of Palestinian Arab women demonstrated on Tuesday along the fence that separates Gaza from Israel, their first mass mobilization since protests erupted on the border three months ago, AFP reported.
Since March 30, Gazans have been holding weekly violent demonstrations along the heavily guarded frontier.
In these weekly riots, Gazans have hurled rocks, firebombs, and flaming tires at Israeli soldiers securing the border and have used makeshift "terror kites" and "terror balloons" to drop explosives on Israeli positions.
On Tuesday, according to AFP, women arrived in buses from across the enclave, many accompanied by their children.
They moved in groups to within 50 yards of the fence that divides the Gaza Strip from Israeli territory, said the news agency.
17 people were wounded by Israeli gunfire, Gaza's health ministry spokesman Ashraf al-Qodra told AFP.
Since the protests and clashes broke out along the Gaza border on March 30, at least 138 Palestinians have been killed by Israeli fire.
The demonstrations peaked on May 14, when at least 62 Gazans were killed as thousands approached the border fence in protest at the U.S. decision to move its embassy to Jerusalem. Hamas openly admitted, however, that most of those killed were members of the group.
Hamas leader Ismail Haniyeh recently declared that the riots will "continue until Jerusalem is liberated and the Gaza blockade ends."