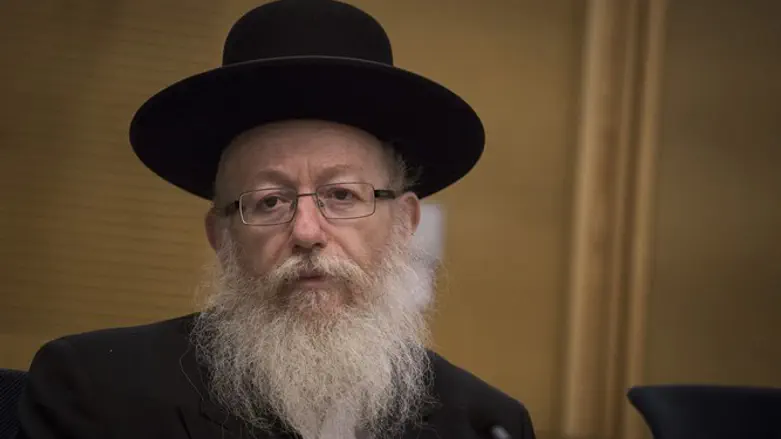 Yaakov Litzman
Hadas Parush/Flash90
Deputy Health Minister MK Yaakov Litzman (United Torah Judaism) threatened Monday evening in the Knesset plenum with the resignation of his party from the coalition if the draft law is passed.
"We will not be able to agree to any law that will restrict Torah scholars in any way, and if this law, as it is, passes through three readings, we will leave the coalition," Litzman said.
Earlier, Defense Minister Avigdor Liberman stated that he expects the draft law to pass in its current form.
"The issue of recruiting yeshiva students has been a subject that has accompanied the State of Israel since 1948. Apparently there is no formula for which we can please everyone, but I also believe in the saying: ['try for too much,] and you end up with nothing.' Therefore we have brought this bill, which was formulated by the defense establishment," Liberman said.
"As I promised a few months ago, I said that we would bring a law according to two criteria: that it is acceptable to the IDF and that it would be approved by the Supreme Court. After I received the outline, I transferred it to the chief of staff. I told him, 'Go through the entire outline with a microscope. Goth through every comma, every period. And I think we got a good law. I really do not understand the criticism from MKs, who of course think that they understand the needs of the defense establishment better than the chief of staff and the head of manpower," he added.
Liberman also congratulated Yesh Atid leader Yair Lapid on his expected support for the bill. "Of course I respect Yair Lapid's decision to support the law. I said that this is the most responsible law and that it is not a law of Liberman, Lapid, Litzman or Deri. It is a law of the defense establishment in favor of the IDF. I expect that every Knesset member who speaks highly of the importance of the IDF, the support of the IDF and the heads of the defense establishment, will support this bill as well."
The wording of the law, which was formulated by a professional committee in the Defense Ministry, determines recruitment targets for haredim, which would grow each year and establishes economic sanctions on yeshivas if they do not meet the draft requirements. Another clause states that the law will be annulled if the haredim fail to meet the recruitment targets for three consecutive years.