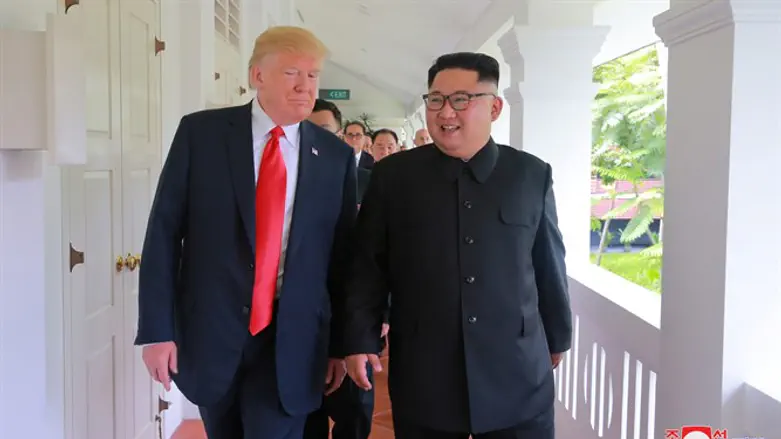 Trump and Kim
Reuters
Less than a month after President Donald Trump's historic meeting with North Korean dictator Kim Jong Un in Singapore, the White House is reportedly already laying the ground work for a possible second meeting between the two leaders – this time on US soil.
On June 12th, Trump and Kim met for 45 minutes – the first time a sitting US president has met with a North Korean leader since the Korean War erupted in 1950, leaving the peninsula divided between a communist regime centered around Pyongyang in the north, and a liberal-democratic government in the south.
The meeting between Trump and Kim resulted in an agreement by the two to pursue a final termination of hostilities in the Korean War, which was ended by an armistice agreement in 1953 but never formally terminated, as well as the denuclearization of the peninsula.
President Trump's National Security Advisor, John Bolton, acknowledged that North Korea had a history of abrogating past agreements with the West, yet remained hopeful denuclearization would be achieved.
"There's not any starry-eyed feeling among the group doing this," Bolton said on Sunday. "We're well aware of what the North Koreans have done in the past."
Total denuclearization, Bolton added, would take roughly one year to accomplish.
Cautiously optimistic that the 34-year-old leader of the hermit regime may finally be prepared to relinquish his military's nuclear weapons program, some in the Trump administration are planning for a second meeting between the American and North Korean leaders.
According to a report by Axios Monday, administration officials say a second meeting could only come after North Korea shows progress in implementing the June 12th agreement, dismantling much of its nuclear weapons program and delivery systems.
Kim, who benefited from a shift in international opinion following his meeting with the US president, could be encouraged to make progress towards denuclearization by the offer of a second meeting, officials said.
One possible venue considered by administration officials is New York City during the United Nations General Assembly's annual meeting in September. Each year, the session draws heads of state and government from around the world.
US officials are continuing talks with the North Korean regime in the interim, with Secretary of State Mike Pompeo expected to fly to Pyongyang this week, the Financial Times reported, hoping, among other things to secure the release of the remains of US soldiers killed in the 1950s.