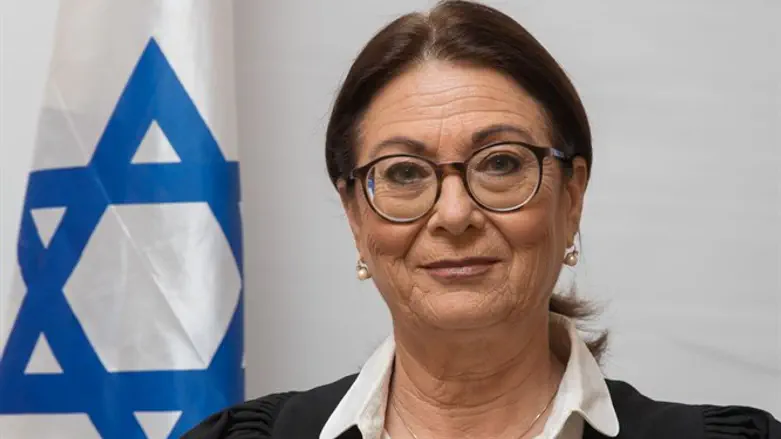 Esther Hayut
Judicial Authority website
Supreme Court Chief Justice Esther Hayut issued a new protocol today, in an attempt to regulate the interactions between judges and prosecution and investigation officials ahead of the filing of indictments.

The new order was formulated following the "text messaging affair" for which Judge Ronit Poznansky-Katz faced disciplinary action over her collusion with an investigator from the Israeli Securities Authority, ahead of remand hearings in the case known as "Case 4,000."

According to the new procedure, communication between judges and investigation and prosecution authorities over requests will take place only during request hearings, and the judge will refrain from any direct or informal contact with them outside the courtroom.

In addition, requests for detention and requests for orders will be submitted during normal working hours to the court secretariat. Applications will not be allowed to be submitted directly to a judge or to any of his office staff. If the request is submitted not in accordance with the provisions of any law, the secretariat shall draw the attention of the applicant to this matter.
In addition, in any court where applications for detention or requests for orders are heard, the president of the court or his deputies will determine the panel that will hear them.

The court's announcement further stated that from now on, investigation material will be presented to the judge during the hearing in the courtroom, either in a hearing held in the presence of all the parties or in a one-sided hearing. To the extent necessary, the judge shall cease the hearing and shall examine the investigation material in his office without the presence of any of the parties.

Justice Minister Ayelet Shaked praised the new procedure: "A person from the community who is taken into custody loses his world in a moment. Every person is presumed innocent, and no one should be lenient about this. A lack of show of neutrality in court proceedings, even if only in appearances, is a serious blow to a feeling of justice," she said.
"Only careful guarding of suspects' rights will protect their freedom. "