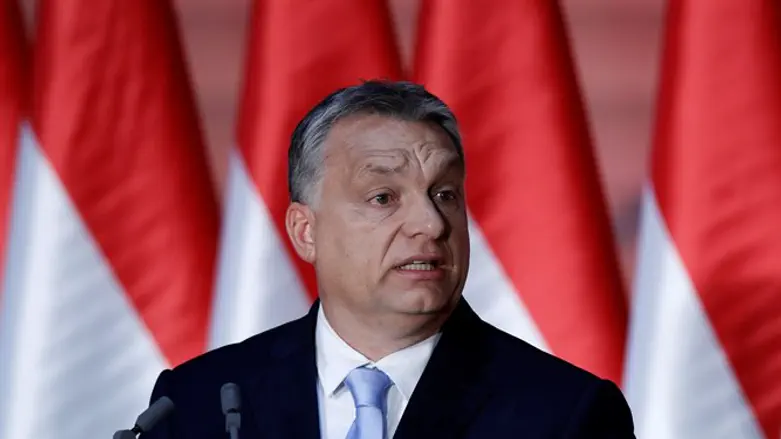 Viktor Orban
Reuters
Hungarian Prime Minister Viktor Orban is slated to visit Israel on July 19, Haaretz reported on Wednesday.
According to the report, the visit was coordinated at a meeting of national security advisers of the Visegrad group, which was also attended by Israeli National Security Adviser Meir Ben-Shabbat. The Visegrad group, also known as V4, includes Hungary, Poland, Slovakia and the Czech Republic.
Orban was reelected in April for a third consecutive term in office, in an election fought on a fiercely anti-immigration platform. Last week, Hungary's parliament approved legislation that criminalizes some help given to illegal immigrants.
Netanyahu made a congratulatory phone call to Orban following his reelection and invited him to visit Israel.
In February, Netanyahu met a senior foreign policy adviser to Hungary's Foreign Minister Peter Szijjarto. The two discussed the possibility that Israel will host a meeting of the Visegrad group, noted Haaretz.
Jewish groups in Hungary have sometimes accused Orban's right-wing government, in power since 2010, of downplaying Hungary's role in the Holocaust during which some 600,000 Hungarian Jews perished.
In 2015, however, Orban admitted his country's role in the Holocaust, saying many Hungarians chose "bad instead of good" in helping deport Jews to Nazi death camps.
He has also come under fire for failing to condemn the anti-Semitism of the Jobbik party.
In November of 2012, one of Jobbik's members released a statement saying that a list should be compiled of all of the Jewish members of government.
He was followed by another Jobbik member who called publicly for the resignation of a fellow MP who claimed to have Israeli citizenship.