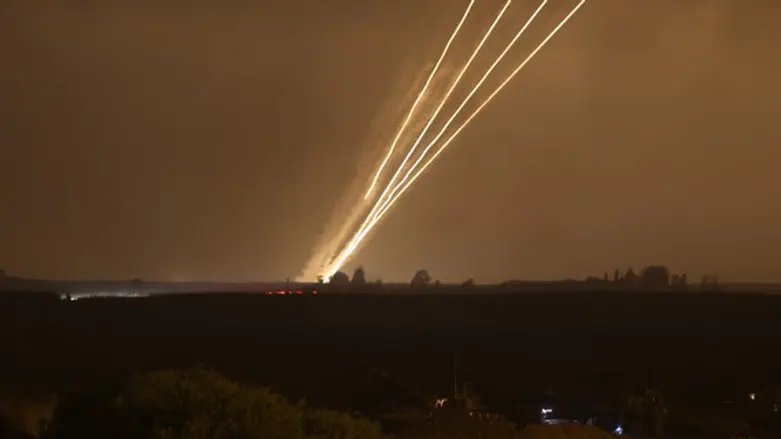 Rocket attacks
Nati Shohat/Flash90
The military wing of Hamas claimed responsibility for the rocket attacks on Israel Tuesday night in response to the bombing of a terrorist target in Gaza.
"The resistance is united and ready to react immediately to any aggression or aggression against our people," the terrorist movement wrote on its website.
A series of red alert sirens were activated overnight Tuesday in the regional councils Hof Ashkelon, Sha'ar Hanegev and Eshkol, as well as in the city of Sderot in southern Israel.
The IDF said 12 rockets were identified as having been launched from the Gaza Strip into Israeli territory. The Iron Dome anti-missile system intercepted at least three of them.
Meanwhile, the IDF said that an IAF aircraft and IDF tank targeted a vehicle belonging to a Hamas operative heavily involved in launching arson and explosive balloons from the Gaza Strip into Israel.
In addition, two observation posts belonging to the Hamas terror organization were targeted in the northern Gaza Strip.
"The Hamas terror organization will bear the consequences for facilitating terror and instability," said the IDF Spokesperson's Unit.
Earlier, Palestinian Arab media reported that the Israeli Air Force carried out an attack in the Nuseirat refugee camp in central Gaza.
Hamas spokesperson Fawzi Barhoum said of the IDF's retaliation: "The occupation's escalation and the intentional harm to peaceful protesters and Palestinian opposition activists require a quick reaction of resistance."