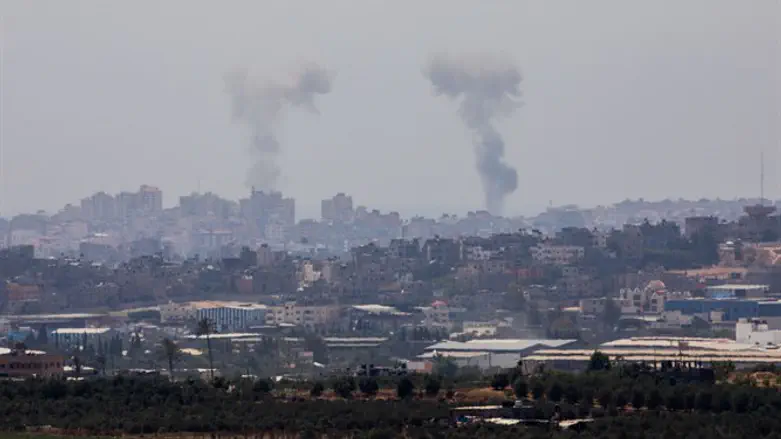 Gaza air strike (archive)
Yonatan Sindel/Flash 90
A series of sirens were activated overnight Tuesday in the regional councils Hof Ashkelon, Sha'ar Hanegev and Eshkol, as well as in the city of Sderot in southern Israel.
The IDF said 12 rockets were identified as having been launched from the Gaza Strip into Israeli territory. The Iron Dome anti-missile system intercepted at least three of them.
There were no reports of physical injuries or damages.
Meanwhile, the IDF said that an IAF aircraft and IDF tank targeted a vehicle belonging to a Hamas operative heavily involved in launching arson and explosive balloons from the Gaza Strip into Israel.
In addition, two observation posts belonging to the Hamas terror organization were targeted in the northern Gaza Strip.
"The Hamas terror organization will bear the consequences for facilitating terror and instability," said the IDF Spokesperson's Unit.
Earlier, Palestinian Arab media reported that the Israeli Air Force carried out an attack in the Nuseirat refugee camp in central Gaza.
According to the reports, the attack caused an explosion inside a vehicle.
Earlier on Tuesday, an IDF aircraft targeted a vehicle used by a group of Palestinian Arabs to launch arson balloons from the northern Gaza Strip into Israel.
Five different fires raged in the southern region of Israel on Tuesday, caused by arson terror launched by Gaza terrorists.
Three of the fires were in the Beeri forest, while the two others were in the Kissufim forest. Extensive damage was reportedly caused to the forest regions.