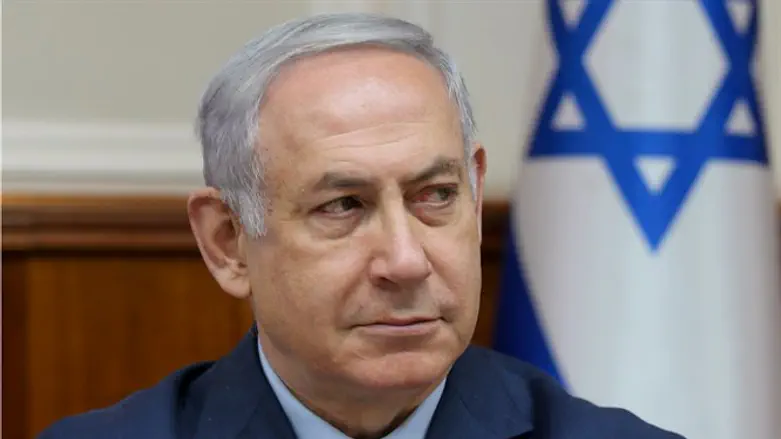 Netanyahu at meeting
Flash 90
A heated debate is expected tomorrow in the Knesset Foreign Affairs and Defense Committee on a bill that stipulates Israel deduct from PA tax revenues salaries paid by the PA to terrorists.
Prime Minister Binyamin Netanyahu wants to amend the bill so that PA budget deductions be subject to decision by the Prime Minister and the Defense Minister.
Arutz Sheva was informed that the National Security Council opposed the bill, claiming it would constitute "harm to the status of Palestinian Authority Chairman Mahmoud Abbas, lead to extremism and violence among the Palestinians, and even to the PA's collapse."
In the past the NSC objected claiming the United States also opposed the law, but meanwhile the Taylor Force Act submitted by Congressman Lindsay Graham passed the US Congress, and even the US President sought to dramatically reduce US funds transferred to the PA.
The bill was submitted by MKs Elazar Stern (Yesh Atid) and Avi Dichter (Likud) with broad support from the Foreign Affairs and Defense Committee. Bereaved Families and Victims of Hostilities are expected to arrive tomorrow to support the law as it stands today without the Prime Minister's amendment, and is expected to pass second and third readings next Monday.
Education Minister and Political-Security Cabinet member Naftali Bennett warned that Netanyahu's request to condition withholding PA money on a cabinet decision empties the law of meaning and therefore Jewish Home Knesset Members on the Foreign Affairs and Defense Committee MK Shuli Mualem and MK Moti Yogev will vote against the revision.
"The amendment would prevent automatic withholding and subject it to a cabinet decision, which in recent years has unfortunately failed to offset terror money," said Bennett. "The PA transfers more than NIS 1 billion a year to terrorists who murdered Israeli civilians and to families of terrorists who were killed," Bennett added.
"This absurdity must be stopped, and that's exactly what the law says, but at the last minute an 'innocent' clause was inserted to prevent us from automatically deducting from the Palestinian Authority every shekel it transfers for terrorist purposes. We won't allow it," Bennett stressed.