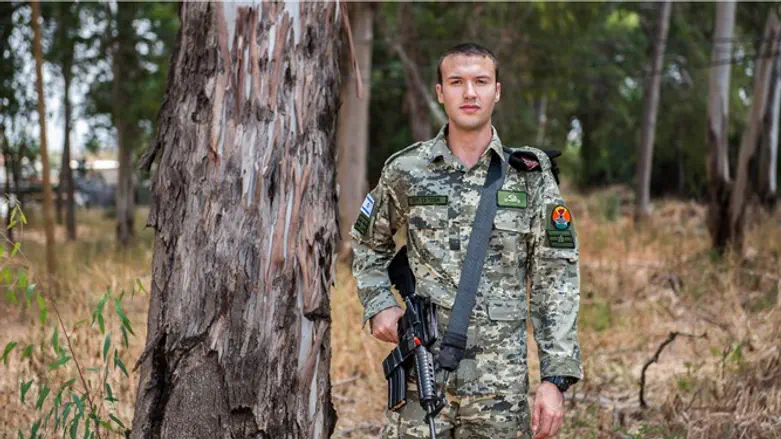 New combat uniform
IDF Spokesman
In the coming weeks a new trial version combat uniform will be tested in the IDF led by the Technology and Logistics Division and the Ground Forces, said the IDF Spokesman.
The decision on the trial stems from a desire for operational improvement, comfort, visibility, and presentation of IDF soldiers and commanders in regular and reserve service.
The new combat uniform to be tested in the trial framework will be tiger-striped, mimicking textures and boundaries found in natural settings. The uniform is made of fabrics manufactured using advanced technologies to reduce their infrared signature and for breathing and evaporation, and are characterized by an improved operational and more presentable cut. This is an opportunity to improve the quality of the IDF combat dress by adapting to operational needs using new and advanced technological capabilities from the textile world.
The decision to move to tiger-striped battle dress stems from operational considerations and is based on compliance with camouflage simulations. The uniform includes rank, unit insignia, and warrior's pin fastened by a patch.
New IDF Combat Uniform; IDF Spokesman
The fabrics are comfortable, airy, light, and durable over time, with features that allow work in places where an anti-static safety standard is required.
As part of the trial, which will begin in June and continue for about a month, 330 soldiers will participate in a variety of units and functions, operating in different activity profiles.
Soldiers participating in the trial are from the following units: Paratroopers, Bardelas, Yam Suf, Lavi haBika, Shooting Branch, Air Defense, Home Front Command, and Intelligence Unit 8200.
The trial will examine two shirt cuts, three camouflage pattern variants, and a uniform trouser frame including a built-in elastic waist. Each participating soldier will receive two sets of tiger-striped uniforms. Soldiers will move in this uniform within their units alone.
The trial will examine: cut comfort, uniform functionality, pocket location, size, and level of necessity, and the cut's suitability for various activities. The final decision regarding acquiring these uniforms for the IDF will be made after the trial is carried out, at the end of which conclusions will be drawn.
Digital military camo texture
צילום: iStock

New IDF Combat Uniform; IDF Spokesman