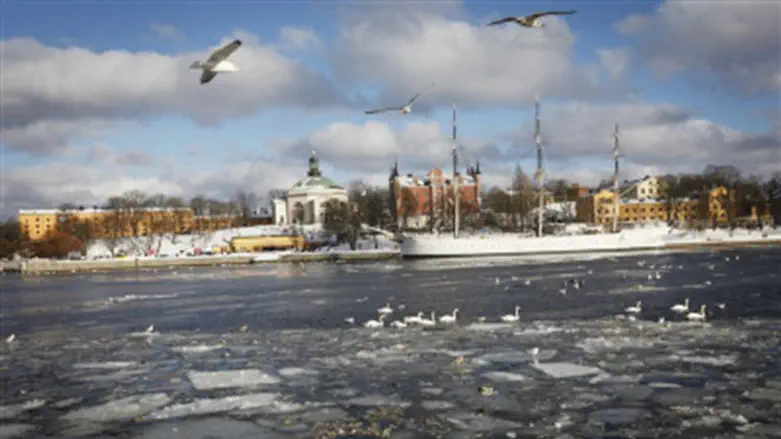 Stockholm, Sweden
Flash 90
A lawmaker for a populist right-wing party in Sweden has been accused of racism after writing on Facebook that Jews and members of the Sami minority are not Swedes, JTA reported Friday.
Bjorn Soder, who represents the Sweden Democrats party at the Riksdag, the Swedish parliament, insists that in his post Sunday he never questioned minorities' rights as Swedish citizens but merely stood up for their rights to preserve their distinct ethnic identities.
Soder had criticized Annie Loof, a Cabinet minister for the liberal Centre Party, who wrote on Twitter that her "Jewish friends are simply my Swedish friends: As a citizen of Sweden, you are Swedish, even whether you belong to one of our national minorities or not."
Soder responded that Loof was "undermining" the status of those five minorities by downplaying their distinctive identities, as he described it.
"These groups have minority positions in Sweden precisely because they are not Swedes. Shame on you, Annie Loof, for your racist attitude," he wrote, according to JTA.
Paulus Kuoljok, the president of the Sami Parliament Plenary Assembly — a publicly elected parliament and a state agency addressing the rights of that indigenous minority – called Soder's Facebook post "provocative" and designed to win votes.
"They have shown their hostile stance for quite some time, so I'm not surprised," he told Sveriges Television.
This marks the second time that Soder has made such a statement. In 2014, he caused an outrage by suggesting in an interview with a local newspaper that Jews living in Sweden should ditch their identity if they wish to be considered Swedes.
Soder insisted in the interview that "most Jewish people in Sweden left behind" their racial identity in order to assimilate.
He further said that it would be a problem if there were too many people in Sweden "who belong to other nations" and had non-Swedish identities. Paying immigrants to go home would also help to avoid "foreign enclaves" and instead "create a society with a common identity", he said.
There has been a rise in anti-Semitism in Europe in recent years and in some cases, there have been violent anti-Semitic attacks and not just verbal ones.
In 2014 and 2015, Sweden saw a total of 547 cases in which a hate crime targeting Jews was reported, according to the Swedish National Council for Crime Prevention, or BRA. Of those cases, a quarter were reported in the Scania region, whose capital is Malmo, where approximately 1,000 Jews live, according to an investigation by Swedish broadcaster SVT.
Following U.S. President Donald Trump's recognition of Jerusalem as Israel's capital this past December, more than a dozen men hurled firebombs at a synagogue in Gothenburg.
In Malmo, participants of a protest rally against Israel chanted in Arabic about shooting Jews following the recognition.
Following those incidents, the Swedish Ambassador to Israel said that Swedish authorities had failed to protect the country's Jewish community.
Malmo has an outsize anti-Semitism problem relative to the rest of Sweden, which has a Jewish population of some 20,000. The city's synagogue has come under repeated attacks.
(Arutz Sheva's North American desk is keeping you updated until the start of Shabbat in New York. The time posted automatically on all Arutz Sheva articles, however, is Israeli time.)