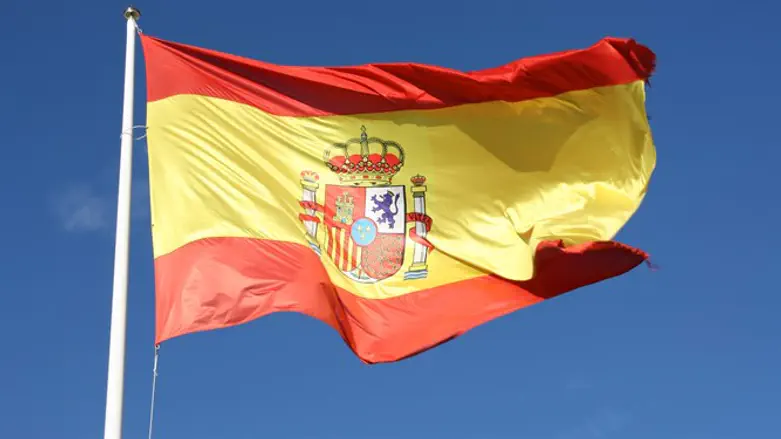 Flag of Spain
iStock
Councilors in the Spanish city of Pamplona, the capital of the Navarre province, have called on the Spanish government to stop its arms trade with Israel and on their municipality to declare Israeli officials as "persona non grata" until Israel stops its "oppressive policy against the Palestinian people", Yediot Aharonot reported Wednesday.
The resolution, passed by the heads of the factions in the Pamplona municipality, also expressed support of the Palestinian "right of return" and the Palestinians' right to hold a peaceful protest "which has been suppressed with force by the Israeli army."
The Pamplona municipality condemned the IDF for killing at least 100 Palestinians and wounding thousands during the recent "March of Return" demonstrations along the Gaza border and offered its support and condolences to the families of the victims.
The resolution also called on the European Union's governments to increase the pressure and impose sanctions on Israel to force it to stop its "aggression" against the Palestinian people, according to Yediot Aharonot.
In addition, the resolution slammed the U.S. decision to move its embassy to "occupied Jerusalem," describing this move as extremely dangerous and in contravention of international law.
The so-called "March of Return" violent riots, openly encouraged by Hamas, have been going on since March 30.
In these weekly violent riots, Gazans have hurled rocks, firebombs, and flaming tires at Israeli soldiers securing the border and have used makeshift "terror kites" and balloons to drop explosives on Israeli positions.
The most violent of these riots took place on May 14, the day on which the United States relocated its embassy in Israel from Tel Aviv to Jerusalem. 60 Gazans were killed in those riots, but Hamas openly admitted that most of those killed were members of the group.
Yediot Aharonot noted that the Pamplona resolution passed despite receiving no support from the Socialist Party, which holds the majority in the municipality. It was backed by the Basque Nationalist Party, the radical left-wing Podemos Party, and the Communist Party.
The resolution still needs to receive the approval of the municipality plenum.
Israel's Embassy in Madrid condemned the resolution, reminding Pamplona that "The Kingdom of Navarre was the last of the peninsula to expel its Jews, and the Pamplona City Council the first to declare us persona non grata. Navarra 1498: Jews out - Pamplona 2018: We're forbidden from entering."
The Pamplona resolution follows other anti-Israel initiatives in Spain. Just last week, the city of Oviedo, the capital of Spain's Asturias region, cancelled a concert of Israel's NK Orchestra, citing political reasons. Oviedo also cancelled an Israeli ballet performance.
Earlier this month, the municipality of Valencia approved a decision to declare itself as a place "clean from the Israeli apartheid," which will boycott Israel both culturally and economically.
On the flip side, nearly two dozen Spanish municipalities recently rescinded or suspended pro-BDS measures against the State of Israel.