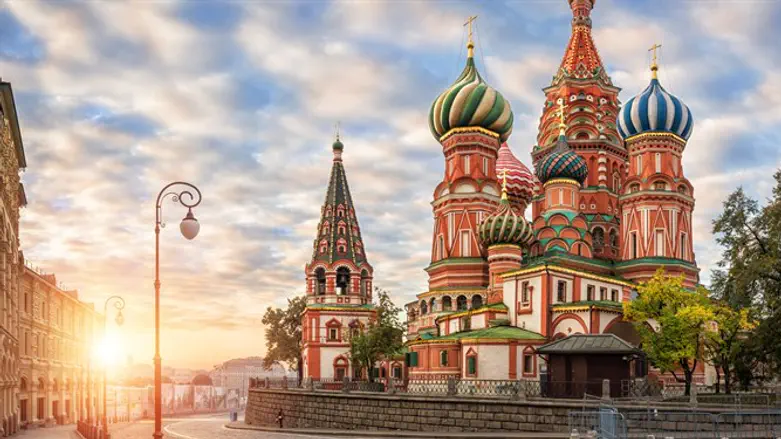 Russian (illustrative)
iStock
For the past three months, Asher Krichevsky, Siberia's chief rabbi, has been battling to stay in the country after the Russian authorities accused the Israeli citizen of attempting to overthrow the
state.
Russia has recently stepped up expulsions of believers and missionaries from Christian denominations that originated abroad such as Mormons, Pentecostal Christians and Jehovah's Witnesses.
But it is also focusing on foreign rabbis, despite Judaism being legally recognized in the secular state as having historic roots in Russia, along with Christianity, Islam and Buddhism.
Thousands of Israelis are currently visiting Russia for World Cup matches, while some 1.5 million Russian-speakers live in Israel.
Krichevsky, 40, is an emissary for the Chabad hasidic movement, which has an emphasis on outreach activities. He has served as the chief rabbi of the city of Omsk and its region since 2001 and also holds the post of chief rabbi of Siberia.
He had his Russian residence permit annulled on the basis that he had "attempted to destroy Russia's constitutional order," an official at the Omsk synagogue where he served told AFP, speaking on condition of anonymity.
Few details of the case are available since the accusations against Krichevsky were classified as secret.
A judge reportedly said in court that Krichevsky's residence permit was annulled on the basis of information from the FSB security service that he had called for the violent overthrow of constitutional order or otherwise threatened state security.
"Neither the rabbi nor his lawyer were informed of the exact nature of the charge because the case was immediately classified as secret," the synagogue official said.
Krichevsky and his wife, who have seven children, previously had their residency permits annulled in 2014 after being accused of minor offences, but they successfully appealed against the ruling.
At the time, Russian media suggested he was spying for Israel.
The next step is for Krichevsky to appeal against the annulment of his residency permit at Russia's Supreme Court, according to the official.
Krichevsky is still living in Russia.
He is one of nine rabbis -- citizens of Israel, the United States and Canada -- known to have faced similar moves by the authorities since 2003. All except Krichevsky have left Russia.
"It's a humiliating and insulting practice," the president of the Russian Jewish Congress Yury Kanner told AFP. He questioned how Krichevsky could pose a threat to the state.
"What kind of (constitutional) order is this if it can be threatened by rabbis?"
In January this year in the Ulyanovsk region on the Volga, US rabbi Yosef (Yossi) Marozov, along with his wife and six children, lost their residency permits after Marozov was accused by the FSB of planning or supporting "terrorist activity." The Supreme Court rejected his appeal.
In February last year, the same happened to Rabbi Ari Edelkopf, a US citizen in the Black Sea city of Sochi, who was also accused of posing a threat to national security.
In 2016, authorities strengthened their control over missionaries through "anti-terrorism" amendments authored by Irina Yarovaya, a prominent pro-Kremlin lawmaker.
The forcing out of rabbis is "a consequence of Yarovaya's law," said Olga Sibireva of the SOVA Center think tank, which monitors extremism and hate crimes.
Rabbis fell victim to a "cleanup operation targeting foreign missionaries and particularly religious organizations considered as sects," she said.
"But it is absurd to suspect rabbis who have worked in Russia for years of extremism," she added.
The Federation of Jewish Communities of Russia, which nominates rabbis to work in Russian regions, said the recent deportations reflected "a new scenario."
"Previously, (rabbis) got expelled after being accused of minor violations like traffic offences. Today, expulsions are linked to accusations from the secret services," said the federation's spokesman, Rabbi Boruch Gorin.
"Their case papers are classified as secret and even lawyers cannot access them. It's easier to get rid of a foreigner when there are no concrete charges," he said.
Foreign Christian believers and missionaries have also been targeted.
The Kremlin denied any generalized crackdown, however.
"One can't give an overall opinion on this topic. You need to look at each case individually," President Vladimir Putin's spokesman Dmitry Peskov told AFP.
Indian missionary Victor-Immanuel Mani from God's Love Evangelical Church was deported in 2016 by a court in the city of Naberezhniye Chelny on the Volga river. He submitted a complaint to the European Court of Human Rights and was later allowed to return because he had Russian family members.
Mani's lawyer Damir Gainutdinov pointed to a number of reasons for the expulsions.
"There is a traditional suspicion of foreigners in Russia," he said, while some regional authorities "are rushing to apply the new law."
Expulsions of Protestant missionaries are "done for the benefit of the Orthodox Church which doesn't want competitors" and which considers their churches to be sects, the lawyer said.
The actions against rabbis may be down to "local conflicts" with the authorities, he suggested.