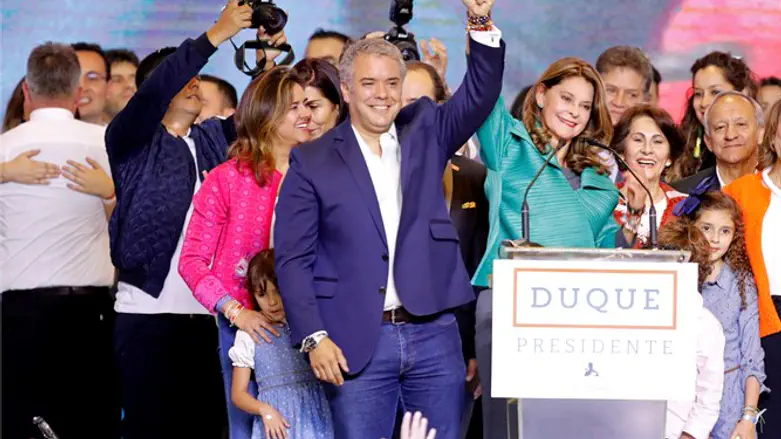 Columbian president-elect Ivan Duque
REUTERS
Colombia's newly-elected president said that he would consider moving the country's embassy to Jerusalem.
Ivan Duque, 41, of the right wing Democratic Center Party, may turn Colombia into the third Latin American country, and the fourth in total, to follow the example of the United States.
Israeli officials say they believe Duque, who was elected in a run-off on Sunday to a four-year term, will continue the strong alliance between the two countries.
"We are talking about a person who is a friend of Israel, very positive," Modi Efraim, the foreign ministry's deputy-director general for Latin America, said on Monday. "He is an Uribe man, the person who essentially started Colombia's strategic relationship with Israel," he added in a reference to former president Alvaro Uribe, Israeli media reported.
In his first speech after the results, Duque declared on national television that he promises "a new generation" of leadership for a country still emerging from a half-century of civil conflicts.
"I will give all my energies to unite our country: no more divisions, let's think of a country with all and for all," he said.
Duque said on the campaign trail that he would consider moving his country's embassy to Jerusalem, and that his government would work "to maintain the best possible relations with the State of Israel."
Efraim said Jerusalem hopes "there will be continued positive development in Colombia's support for Israel in international forums."
In September, Binyamin Netanyahu made the first-ever visit to Latin America by a sitting Israeli prime minister. Colombia, along with Argentina and Mexico, were included in the visit, leaving out the region's strongest power, Brazil, poisoned by more than a decade of far-left anti-Israel governments.