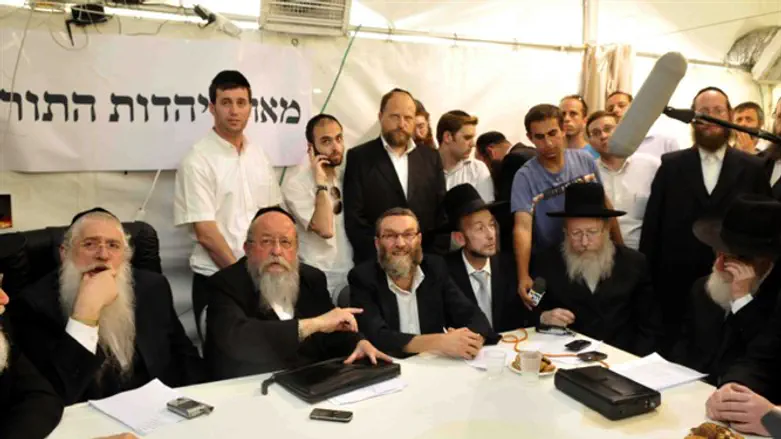 UTJ MKs
Flash90
The Knesset's haredi parties are divided amongst themselves over whether or not to accept the Defense Ministry's proposed "draft bill."
Last year, the Supreme Court struck down a 2015 amendment to the IDF draft law, ruling that the exemptions it granted to haredi yeshiva students were discriminatory.
The State was given one year to develop a replacement for the draft law.
UTJ's Council of Torah Scholars - affiliated with UTJ's Agudat Yisrael faction - has opposed the plan unless changes are made, but UTJ's Degel Hatorah faction, as well as the Sephardic-haredi Shas party, believe that they will be able to come to agreements and advance the law, Kikar Hashabbat reported.
Last week, the Council ordered UTJ's ministers and MKs to resign from the coalition if the draft law is promoted in in current form.
UTJ MK Degel Hatorah told Kikar Hashabbat that that law is "fine" but another member of his party said it was not. The site also said that Degel Hatorah's Council of Torah Scholars will meet again to discuss the law.
Bnei Brak's Rabbi Haim Kanievsky, considered a leading haredi Torah sage, has expressed approval of the law.
MK Yaakov Asher told Israel Hayom that "the law is not good, but we're realistic" and that the law would "undergo changes" before being passed.
According to Israel Hayom, former MK Meir Porush (UTJ) is responsible for dragging the Council into the discussion and encouraging them to oppose the law.