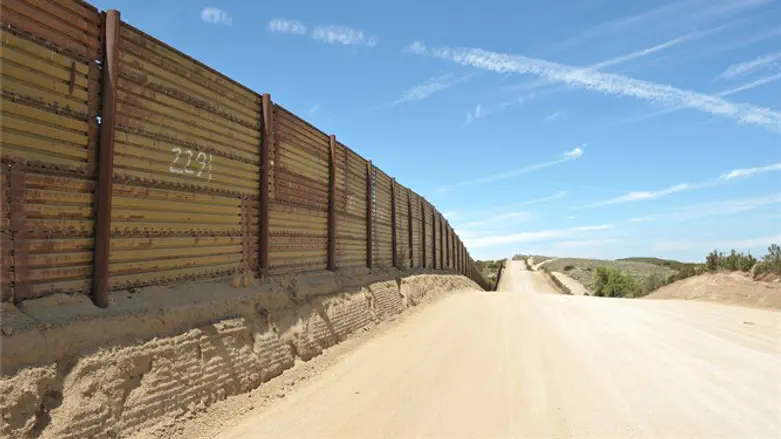 California-Mexico border
iStock
The Orthodox Union joined an open letter signed by 26 other Jewish organizations opposing separation of migrants' families at the border.
The decision to sign the letter on Friday came two days after the OU, an Orthodox umbrella group, hosted Attorney General Jeff Sessions at its annual conference in Washington D.C.,where he spoke to a friendly crowd about protecting religious liberty for houses of worship, and other matters. In May, Sessions' department instituted a policy to separate migrant families after they cross the US border illegally.
Under the policy implemented in recent months, every illegal migrant who crosses the United States border is prosecuted and detained. Because children cannot be prosecuted with adults, they are reclassified as unaccompanied minors and taken away, either to mass children's shelters or foster homes.
Critics of the policy say forcibly separating parents and children is traumatizing and draconian. Sessions says it's a necessary measure to enforce border security.
"This policy undermines the values of our nation and jeopardizes the safety and well-being of thousands of people," the Jewish open letter says. "As Jews, we understand the plight of being an immigrant fleeing violence and oppression. We believe that the United States is a nation of immigrants and how we treat the stranger reflects on the moral values and ideals of this nation."
Among the signers of the letter are the leading organizations of the Conservative, Reform and Reconstructionist movements. The addition of the OU means that all four major American Jewish denominations have come out against the policy. It is rare that the OU,which generally takes conservative political positions, agrees with the other three movements on a matter of domestic government policy.
Religious groups across the spectrum, Jewish and not, have opposed the policy, and the OU is among the most recent conservative religious organizations to oppose it. It has been criticized in recent days by the Southern Baptist Convention, the US Conference of Catholic Bishops and the Rev. Franklin Graham, the late Billy Graham's son.