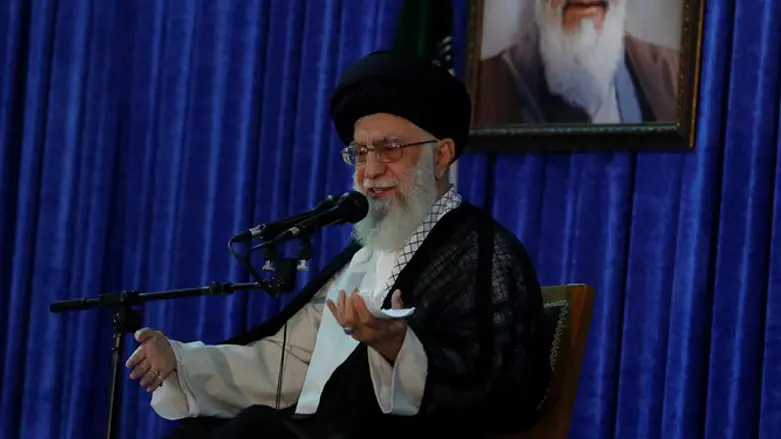 Ayatollah Ali Khamenei
Reuters
Iran's Supreme Leader, Ayatollah Ali Khamenei, on Friday launched a Twitter tirade against Israel, saying that "the Zionist regime will perish in the not-so-far future."
"Zionist Regime's issue isn't about diplomatic ties with other states, to be solved if a few spineless states in region established ties with it. It's about nations; it won't be solved by White House's efforts, moving its embassy. It's about the regime's fundamental illegitimacy," he said in a series of tweets.
"The Zionist regime was founded based on falsehood. They have forcefully and by means of coercion, threat and armed forces, expelled a historical nation from their own country. Is it possible to eliminate Palestine from the historical-geographical memory of the world?!" continued the Iranian leader.
"Like all free countries, people of Palestine--real Palestinians-- should be polled to determine the political system of Palestine; that governing body will decide on future of immigrants in Palestine. There's no other solution and this leads to elimination of the Zionist regime," he wrote in yet another tweet.
"The Zionist Regime will not last. All historical experiences imply that with absolute certainty. Undoubtedly the Zionist regime will perish in the not-so-far future," concluded Khamenei.
Khamenei earlier this month called Israel "a malignant cancerous tumor in the West Asian region that has to be removed and eradicated".
On Sunday, he attacked Prime Minister Binyamin Netanyahu and branded him a "child killer".
Referring to Netanyahu's visit to Europe last week in which he warned against Iran's aggression in the region, Khamenei said, "Then that oppressor [and] wicked … child killer goes [to other countries and] plays the victim that Iran wants to do away with several millions of our population."
The Supreme Leader has several times in the past referred to the Jewish state as a "cancer" and threatened to "annihilate" the cities of Tel Aviv and Haifa.
(Arutz Sheva's North American desk is keeping you updated until the start of Shabbat in New York. The time posted automatically on all Arutz Sheva articles, however, is Israeli time.)